Welcome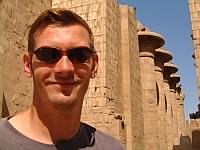 Me in Karnak Temple
Luxor, Egypt (8Jul01)
Welcome to Peter Birch's website. This is where I chronicle my world travels, including my solo 'round the world trip of Feb. 2000 - Sep. 2001. On this site you'll find extensive travel logs, photos, and travel stories from that trip. You can dig right in by going to my travel page. However, given that I'm now Product Manager of Google Earth at Google, I've added a cool new map that makes it really easy to find each of my travel stories. I hope you like it!
View Larger Map
The plan was to do four travel legs, in Latin America, Europe, Africa, and Asia. For the Latin American leg, I spent four month journeying from Mexico to Bolivia, South America. I traveled almost the entire distance by bicycle and bus. In total, I biked over 2300 miles. For details of this trip, see my summary.
For Europe, I decided to leave the bike at home at travel by train and bus. I went from Spain, to Morocco, through France, to England to visit family, then to the Czech Republic and Hungary for New Year's. I then traveled by train to Italy, where I lived for six weeks with friends working on my website (as well as doing some freelance work.) I then headed to Greece before heading to Egypt.
For my African travel leg, I traveled most of the distance by matatu, which is a communal mini-van which criss-cross from village to village throughout Africa. After flying into Kenya, I traveled down to Tanzania to climb Mt. Kilimanjaro, then through Uganda. There I had the chance to experience the mountain gorillas in the wild. By that point, I needed to meet up with a friend in Malawi, so I hustled through Rwanda, down Lake Tanganika, through Zambia, Zimbabwe, and over to Malawi, just in time to meet my friend Emily. We traveled in Malawi, then headed down to South Africa, where I eventually ended up in Cape Town for several weeks. At the urging of my friend Jim, I eventually decided to head back to Zambia (passing through Zimbabwe again) to catch a total solar eclipse. What a sight! I then headed back to South Africa and then to Egypt again. I have a lot of pictures on my site, and travel stories from much of this leg.
The plan for my final leg was to travel by motorcycle across Asia, starting on the Mediterranean and traveling all the way to the coast of Vietnam. I was hoping to buy a motorcycle in Egypt and sell it in Vietnam, but this turned out to be a logistical nightmare involving registration, carnets, and lots of money. I tried to cut out some red tape by trying to buy a bike in Greece instead, but that didn't work either, so I eventually went to Turkey to buy one. After researching that I could get all of the paperwork, I bought a bike (for $2,000,000,000 Turkish Lira!) and started preparing. I hit a snag almost immediately; I could not register my bike and keep the plates, even though I was assured I could before committing to buying the bike. By that point I had spent months planning and wanted to get moving, so I decided to give up the motorcycle option and go by bike instead. Using some of the money from reselling the bike, I flew home to see my friends and family and to get my bike prepared.
Unfortuntely, my trip ended abruptly on Sep. 11, 2001, when planes hit the Twin Towers right as I was packing to head to the airport with my bike. For two weeks after, I was waiting for a flight, and was then further delayed when my camera broke after shooting a wedding. It took two months to repair, by which time my Iranian visa had expired, and it seemed that fate was working against me. I decided to abandon the final leg and began my transition back to the working world by going back to school to get an MBA.
Since then, I have been doing a lot of travel, but mostly for business. In the past few years, I have managed to get to Japan (five times,) Taiwan (twice,) Finland, Russia (St. Petersburg,) China, and Germany, all for business. In addition, I managed to squeeze in a couple of adventure trips, biking through Cuba and trekking in the Patagonia region of Chile/Argentina. One of these days I'll get those pictures up on the site.
---
Many of you probably wonder where I've been lately, if I'm in the country, where I'm going, etc. I've prepared a list of Frequently Asked Questions just for you! For those of you who don't know who I am, check out About Me, where you can learn more than you ever wanted to know.