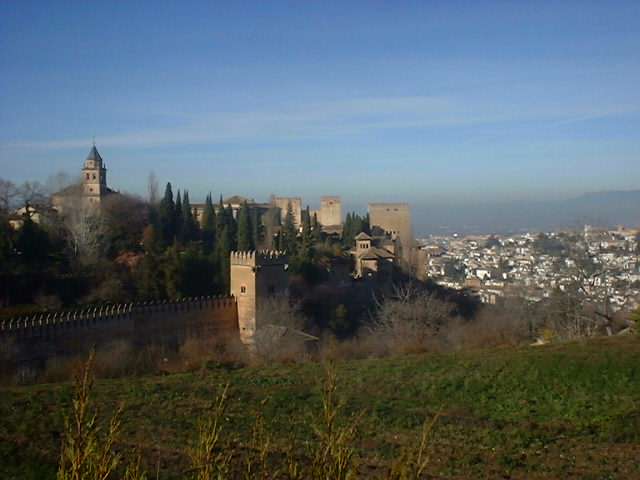 The Alhambra from a distance
Granada, Spain (10Dec00)
My return to Europe was rather underwhelming. Instead of entering Spain at Algeciras, where I had left, I went through Ceuta. Ceuta is a tiny speck of Spanish territory on the African contintent, just across the Straight of Gibralter from the Spanish mainland. Spain's insistence on keeping it takes all the wind out of their complaints against Britain's occupation of Gibraltar.
A bland, dirty town, Ceuta had nothing to recommend it other than the availability of beer and tapas, which were things noticibly lacking in Morocco. I was traveling with Tamsin, my British travel companion from Morocco, and we were enroute to El Chorro, a deep, rocky gorge famous for climbing. We had not anticipated, however, the impact of Immaculate Conception Day and the surrounding holidays. It appeared that all of Spain had the entire week off, and everywhere was packed with Spanish vacationers, including all accomodation in El Chorro.
Our climbing plans foiled, we went our separate ways, with Tamsin returning to London. That left me in Malaga, a town beseiged by Christmas shoppers. Every street was busting with activity, and all of the Christmas lights and decorating made the town look like a giant Christmas tree.
Malaga was home to Spain's best churros and chocolate, a scrumtious combination of deep fried batter shaped into small loops and a mug of thick, creamy chocolate for dipping. My favorite activity was to sit in the cafes scarfing churros and watching the mobs of shoppers go by, serenaded by the high pitch squeal of the blind lottery ticket sellers: "Para hoy es suerte, para hoy es suerte, PARA HOY!" As much as I love chocolate and churros, it wasn't enough to keep me in Malaga, so once I bought some new clothes and mailed of a batch of film, I was off to Granada.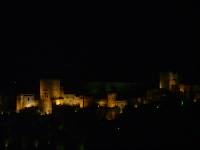 The Alhambra at night
Granada, Spain (8Dec00)
Granada is one of the most beautiful cities in Spain. Nested in the foothills of the Sierra Nevadas, it was once a capital when the Moors ruled. Today, it is the embodiment of the perfect blend of East and West: Arabic architecture, abundant shawermas, tapas bars, and Spanish wine. Granada is home to one of the most impressive Islamic biuldings in the world - The Alhambra. Perched atop a nearby hill, the Alhambra looms over the city, its gardens and intricate stonework drawing in tourists from all over the world. Seeing it was a main motivation for my going to Granada, but it is so popular you have to make reservations days in advance. Never once to plan ahead, that meant that I had a few days in Granada to relax. Being Spain, relaxing meant touring the tapas bars, eating, and drinking.
As I was making my way out of the hotel, Marina, the woman working reception whom I had befriended, intercepted me: "Peter, you must meet my friend - she is here alone too!" Before I had time to realize what I was getting myself into, I was whisked across the street to the reception desk of another hotel where Marina's friend Ann worked. It was there, hiding in the small room behind the desk, where I met Carolina (not her real name.) An attractive woman in her late 20s with long balck hair and a generaous helping of makeup, Carolina had apparently come down from Madrid for the holidays. As we both timidly sat, drank beer, and nibbled on a selection of sliced ham, cheese, and olives, Marina and Ann worked out every detail of our "date." First, the Irish pub, then the place down the street for tapas, then dancing. It was like watching overly involved parents planning prom night.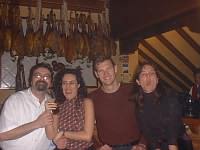 Hamming it up
Granada, Spain (9Dec00)
Meanwhile, everyone continued eating and drinking, and eventually we all moved next door to the bar. Granada's tapas bars are unique; with every drink you purchase, you get a tapa, or plate of appetizers, free. Another drink, another plate. It's a good strategy, since you usually fill up before drinking too much, and you get a free dinner by the time the night is through. Our escorts stayed with us as we headed out to the Plaza de Toros, or bullring. The area under the seats had been converted into a huge network of bars and clubs, and Ann's husband worked in one. We were treated to a huge selection of meats, cheeses, olives, sherry, and of course, more wine.
By about 2am, our "escorts" were tired and ready to go home. So Carolina, myself, and Sergio, someone we met along the way, continued on to the dance club next door. As the evening progressed, it started to become clear that something as wrong; Carolina was becoming more and more drunk, and eventually ended up at the bar crying uncontrollably. She finally revealed to us that she was supposed to be in Granada on holiday with her boyfriend, but he had dumped her just the day before. Sergio and I went into babysitting mode.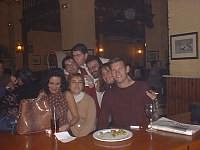 My evening as an escort
Granada, Spain (9Dec00)
We continued our progression through the various clubs, going from techno in an industrial decor, to swing, to retro-Americana, all without having to leave the bullring. By 6am, the clubs were closing, and Sergio and I were ready to relieve ourselves of our duties and go home. We got Carolina in Sergio's car, and went back to the hotel. But she didn't want to get out. She begged us to go out to another club, and we finally agreed. We headed up the tiny, twisting cobblestone streets until we reached a small place called The Cave, which was indeed a network of tiny passageways reaching far into the hillside. It was a great concept, but in practice, it was no place for a 6'4" (1.95M) person to be, and I had to walk carefully to keep from banging my head all the time. The music echoed through the passages like a boombox in a subway. By 8am, I was running out of steam and patience. Meanwhile, Sergio was asleep and Carolina was so drunk, I was having to hold her upright. Whether she liked it or not, we were going home.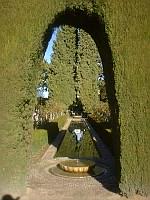 The gardens of the Generalife
Granada, Spain (10Dec00)
As luck would have it, Carolina was staying in the same hotel as I, so as he dropped us off, I asssumed the role of primary caretaker. She again begged me not to take her back, but I was having none of it. As we got to the door of the hotel, I could see the fear building in her eyes. She grabbed me: "Please, I have just one favor to ask." I knew I was in trouble. "My boyfriend is still in our room. I don't want to go back there, not now after all that's happened. Can I please stay with you? I have nowhere else to go."
She was clearly distressed, and at that point all I wanted was for my nightmarish evening to end, so I agreed. What she didn't tell me, however, was that she still had to go back to her room to get her things, and their room was right next to mine. This was getting worse all the time.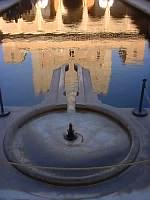 Reflections of the Alhambra
Granada, Spain (10Dec00)
I stood in the hallway waiting for what seemed like an hour but was probably only a couple of minutes. I was expecting at any second a giant, angry man to come barging out and beat me to a pulp for "stealing" his girlfriend. She emerged unaccompanied. I grabbed her things, shoved them into my room, and quickly shut the door with a quiet "click." Carolina collapsed on top of my bed and immediately slipped into a deep slumber.
It was 9am, and I had already planned to be up and out photographing the early morning sun over the Alhambra. Seeing as I was already up and released from my babysitting duties by reason of unconsciousness, I grabbed my camera and went back out. After hiking for an half an hour for the perfect viewpoint, I sat and watched as the pale sun struggled to penetrate the thick cloud cover. I didn't even bother to get my camera out. I headed back. I was in one of those states of such sleep deprivation that all I could do was to roll out my sleeping bag, lay down on the floor, and stare at the ceiling.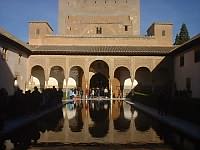 Royal Palace of the Alhambra
Granada, Spain (10Dec00)
After two hours of altogether unsatisfying sleep, I awoke to find Carolina also awake: "What are you doing on the floor? Get into bed right now." The need for sleep overruled any ethical objections, and I moved into claim my half of the bed. I was hoping that would be the end of it, but it was not to be. Carolina was not going to give me even a moment's rest. She would repeat over and over between tears, "Why did he wait until our vacation? I have been planning this for months. I don't understand. Why? Why???" Whatever compassion I had left was lost behind a fog of sleep deprivation and masked by the anger I had for being tricked into babysitting in the first place. All I could manage was a feeble, "I don't know."
"Hold me" she commanded. I was afraid to do anything else, so I obliged. I held her weakly with stiff, tired arms. "Kiss me" she pleaded. It was clear that she was looking for a surrogate, and I was not going to play that game. I tried to carefully explain to her why it was wrong for her to seek a convenient distraction, why it was ok for her to be sad after what had happened, and why it was a really good idea for her to let me get some sleep, but it was clear that his was not a problem to be solved with reason. This was my room, and I had nowhere else to go.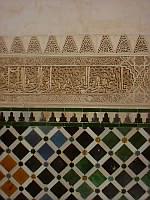 Tilework detail
Granada, Spain (10Dec00)
I kissed her reluctantly, with taught lips, like after a first date when it's clear that there will be no second date. "Again" she demanded as she pressed her lips against mine, while I desperately tryed to explain why it was a bad idea. With each kiss the same scenario would play through my mind: just as our lips would touch, the door would bust open, the burly boyfriend would enter, and he would demand an explanation. My mind, seized from fear, would be unable to conjugate Spanish verbs: "'It wasn't my idea.' Is that ser or estar? Past perfect, imperfect, subjunctive...aahhhh!" Fists would rain down on me, and I would die with my last word spoken being a misconjugation.
Another kiss hit my lips. I was slowly warming up, realizing that at least she was no longer crying, and that it was better to make the most of the situation. But Carolina was obviously still not finding what she needed. She got up out of bed, announced that she was going to try and find another hotel room, and walked out. It was 3pm. I couldn't sleep.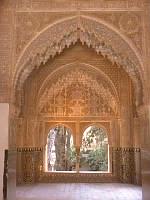 Intricate arches
Granada, Spain (10Dec00)
The next day was my last day in Granada, and I had a reservation for the Alhambra. I barely managed to drag myself out of bed the next day, but once I got to the palace, I didn't want to leave. Everywhere I looked were intricate carved walls, elaborate columns, and reflecting pools. I shot three rolls of film in four hours, and left with a renewed enthusiasm for Granada. It was a beautiful city.