Iīm sure someone made some money off of it - Feb. 17, 12:47 pm. My friends have been wondering for months when, or actually if, I was ever going to leave. Anyone who wasnīt wondering when or if I was going assumed that I had left months ago, after my "going away" party. All I can say is that whomever put money on my never leaving town made a bad bet. Feb 17 marked the beginning of my year-long, īround-the-world trip.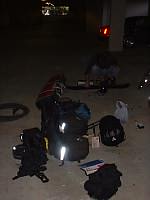 I tell everyone I plan on biking for four months through Mexico, Central and South America, then spending a month or two in Africa, then on to Burma, Laos, Cambodia, the Phillipines, Papao New Guinea, and China, but the reality is that I have no idea where I am going. Nor how I am going to get there. Only that I am going. Going away from work, away from Silicon Valley. Going away from a world where everything ends in .com, where leaving the city involves sitting in traffic for two hours, where one comes to expect words like aioli, frisee, timbale, and ganache on the menu, where everything is safe, expensive, and convenient, where no one will ask me when I plan to IPO. Going to a place where cows have right of way, where the word "road" may or may not involve pavement, where carne asada is king and diarreha is the price, where nothing happens as planned and everything happens maņana. The next year will be anything but normal, if I can help it.
The trip to Baja was the final push I needed. That, and I was ready to strangle the next person who said, "Are you still here?" I was "weeks away" from leaving for months. Committing to road tripping to Baja suddenly created enough of a sense of urgency that I could make the final push. My friends Guy and Marc were already planning to drive to Baja for their sabbaticals, so hitching a ride was simple. Baja seemed as good as any place to start.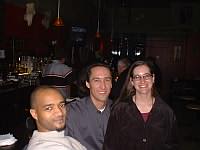 I couldnīt leave, however, without another going away party, this time at my friendsī Spence and Amyīs bar the Argus Lounge. After my last going away party at my house, I didnīt think my landlord would be too appreciative of another.
Our trip started with, of course, sitting in traffic for hours trying to get out of town; sitting in traffic and calling on the cell phone, trying to arrange for last minute delivery of the things that we had already realized we had forgotten.
Our first stop: San Diego, at the house of a couple of Guyīs friends who gratiously put us up for the night. We left at the crack of dawn the next morning, because of some delusion Guy had that we would be stuck at the border all day if we didnīt arrive early. We sailed through without stopping.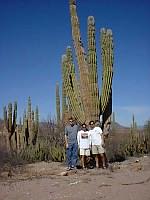 We had barely been in Mexico for an hour before our first carne asada experience. Amongst the tourist icons Hussongs and "Papas & Beer" we managed to find a street vendor selling amazing tacos for six pesos each ($.60.) Our visit to Ensenada also included our first realization that we were no longer in America - we had to deal with the Mexican bureacracy to buy tourist cards. Anyone who has traveled in the third world knows what that means; waiting in one line at some office which you can never find, having to go across town to the bank to actually pay, standing first on one line, then the next, then back again. At least it was easier than cashing a travelerīs check in India.
Soon we were back on the road, blazing our way down the penninsula. The stark, harsh environment of cacti, shrubs, and baking sun were in sharp contrast to our inner world of air conditioning, Led Zeppelin, and potato chips. The roads were in amazingly good condition, even after Guerrero Negro, where until recently, the road didnīt really exist at all. At each checkpoint, Guy would say, "Get out your tourist cards, this must be where they check for them." Each time we would put them away, unused. Guy seemed determined for our 170 pesos to not bave been spent in vain. After the third or fourth time, we started humoring him by saying, "May I see your tourist card" every couple of minutes for the rest of the trip.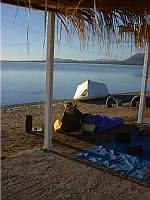 We spent the first night camping on the beach at a place called San Lucas. My new bivy sack was beginning to earn its keep. The next day, we intended to cruise to La Paz in time to meet our friend Trina at the airport, but the beauty of the landscape (and the fact that I kept losing the lens caps for my camera and had to make Guy and Marc wait) slowed our pace. Mulege was a highlight - a small town with a palm-lined river that cuts through the center.
We arrived in La Paz too late to meet Trina at the airport, but in plenty of time to hit the bar for margaritas. La Paz is a big city for Baja, but it still has some small town charm. And, through some miracle of geography, you get to watch the sunset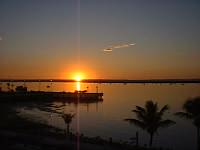 over the water, even though La Paz is on the east coast of Baja, on the Sea of Cortez side. That night we hit the town, consuming every carne asada taco, helado (ice cream,) and margarita in site. My one attempt to show off and do some swing dancing with Trina in the pool hall ended in trajedy, as I somehow managed to rip off my toenail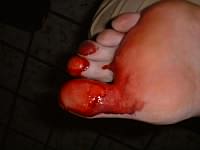 in the process.
The next day was spent in preparation for our big kayaking trip. I also seemed to be spending half of my time in the internet cafe, working out some last minute bugs and testing out uploads. In the process, I managed to fix one of their machines, and eventually the woman working there just gave me the password to the system. So much for leaving the world of technology behind.