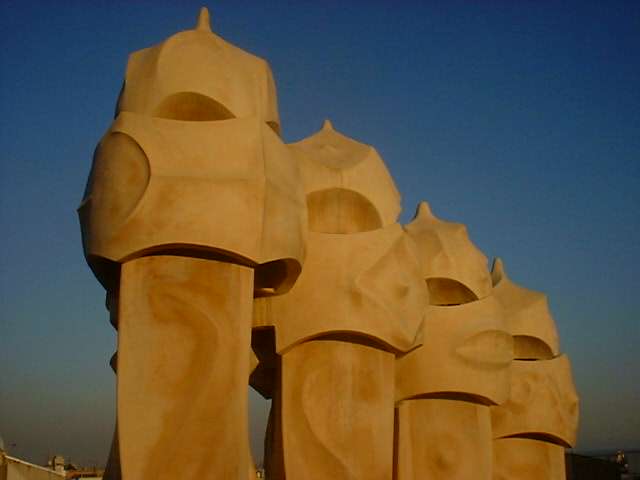 Chimneys or stormtroopers?
Barcelona, Spain (16Dec00)
Barcelona was next on my Spanish itinerary. A city that everyone who visited raved about, I was drawn by images of strange twisted, candycane-like Gaudi sculptures and tales of the best tapas in Spain that I had seen and heard from other travelers along the way. Barcelona was, however, quite a long way from Granada, so I decided to break the trip in two pieces, stopping in Valencia for a day in between.
I actually traveled to Valencia accompanied by a couple more of Marina's (the hotel receptionist from Granada) friends, but given my experience in Granada, I decided it was best to turn down their dinner invitation and fend for myself.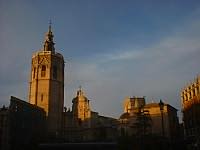 Home of the Holy Grail
Valencia, Spain (11Dec00)
Valencia was a rather unpleasant place. It is in the Northeast of Spain, which is very different culturally from the rest of Spain, and where Catalan is spoken more than Spanish. The entire region has been trying to gain independence from Spain for years, and as a result, resentment and superiority hung in the air. People wouldn't answer me when I spoke in Spanish, and in the tourist office you could find maps and guides in Catalan, English, French, German, Italian, but not Spanish.
I planned my brief tour of Valencia how I plan many city tours - I looked at all the postcards in the shops when I arrived, and I went to the places that had the most interesting pictures. One of those was a building called L'Hemisferic, but it wasn't on any of the maps and very few people had heard of it. I ended up walking for hours trying to find it, having to walk through several construction areas to get there. It appeared that it, too, was still under construction. It was part of a grand new development project consisting of a series of buildings which would eventually house a science museum, an art museum, and an aquarium. The science museum had actually opened the previous week, but they were still putting finishing touches on the building.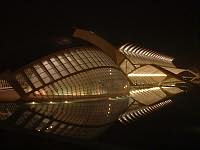 Science museum or spaceship...you decide
Valencia, Spain (11Dec00)
The structure was very modern; a ribcage and glass design, its reflection in the surrounding pools made it look eerily like a spaceship. After having a field day with my camera, I returned back to town. It was late, about midnight, but I figured that finding food at midnight in Spain was like finding beer in a bar. But I apparently forgot that I wasn't in Spain, I was in Valencia, and food was nowhere to be found. I eventually got so desperate that I had to resort to eating bags of crisps out of the vending machine in the train station. I left for Montserrat, just outside Barcelona, the next morning.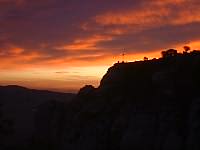 I'm actually up for sunrise!
Montserrat, Spain (13Dec00)
If Barcelona was the capital of wild nightlife, home to countless clubs and outrageous architecture, troubled with crime, drugs, and prostitution, then Montserrat was its antidote. Tucked away high amongst a series of long, finger-like spires of rock sat the Benedictine Monastery of Montserrat. Founded in the 11th century to commemorate an apparition of the Virgin Mary, it had become a major pilgrimmage destination for devout Catholics everywere. Since almost no one spent more than a few hours there on a daytrip from Barcelona, it was a great place to escape the chaos of the city, or in my case, to do some relaxing in preparation for the late nights ahead.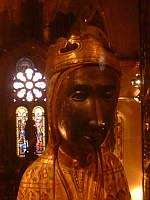 The sacred statue of Virgin Mary
Montserrat, Spain (12Dec00)
The area around the monastery itself contained little more than housing for monks, the basilica, as museum, and two hotels. The cheap hotel was undergoing renovations, which left only the three star hotel as an accomodation option. Since it was offseason, however, lodging was deeply discounted, and I got to enjoy the luxuries of a queen bed, a toilet sanitized for my protection, and a free resupplying of my toiletries for a mere 3500 pts (US$15.)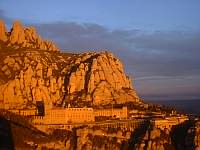 The monastery at sunrise
Montserrat, Spain (13Dec00)
With spectacular views into the valley below, 30km of walking trails, and strange and beautiful rock formations, it was easy to see why an apparition of Mary would choose to materialize there. From the highest point, you could see all the way to the Pyrenees on the French border. The basilica, with its elaborate guilded fascade, ornate chandeliers, glowing stained glass, and row after row of offering candles, was perhaps the most beautiful religious building I've ever visited.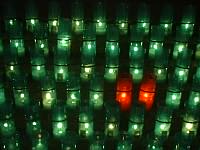 Offering candles
Montserrat, Spain (12Dec00)
My batteries recharged (both literally and figuratively) and my shampoo and toilet paper stocks replenished, I was ready to head into the malaise that was Barcelona.
The backbone of activity in Barcelona was the Rambla, a long pedestrian walkway which ran through the center of town. It hosted a multitude of newspaper stands, bookstalls, and flower stands, and radiating off the Rambla were a network of small streets full of shops, bars, clubs, and restaurants. Near the end of this street was one of the most famous hostels in Europe - Kabul's. Located in a rather shady neighborhood, Kabul's was ground zero for young travelers. It had no curfew, a large lounge area, a pool table, a beer vending machine, internet access, even a french fry vending machine. It was a self contained party scene, which prompted many people to never bother to venture outside.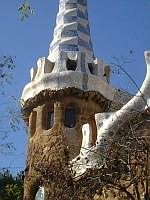 Gaudi's Park Guell
Barcelona, Spain (15Dec00)
I spent most every day in Barcelona touring the Gaudi structures. Antonin Gaudi was an architect and artist known for his incredibly fanciful, ovderstated designs. It is from his work that we get the term "gaudy". I had very little knowledge of his work, but after touring over a half dozen sites, I became a Gaudi devotee. The most amazing thing about his work was the incredible range of skills he demonstrated in each project. He not only designed innovative buidings which were structurally way ahead of their time, but he was also responsible for every detail - ornate metal grates, all interior woodwork, furniture design, and of course, his signature tile work. His buildings were straight from the pages of Dr. Seuss.
His most famous building is the Sagrada Familia, a church begun in 1882 and which is still just over half complete. It was the most magnificent of buildings even partially complete; I only hope I live to see it's completion. The current structure has eight spires over 100m tall, but the final design will have 18. Gaudi spent his final years living in the building working on the plans, but he was tragically killed by a train in 1926. Work conditues from the reconstructed remains of his original plaster models, smashed during the Spanish Civil War of 1936-1939.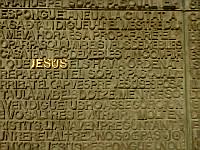 Door of Sagrada Familia
Barcelona, Spain (15Dec00)
While the days were reserved for Gaudi, the evenings were for dancing. Barcelona has a wild nightlife, and there was never a shortage of options. Our first night out dancing, we just went out to the first place we could find, which was a rather cheezy place with an unhealthy obsession with Ricky Martin. The next night, I had a hard time getting anyone motivated to go out. Everyone seemed content to spend the entire evening in the hostel, drinking beers out of the vending machine. It took me until 2am to finally get a critical mass of people to head out.
Given the rather underwhelming experience the night before, we tried a diferent club, just across from the hostel. It was the worst nightclub I have ever been to. It had a steep cover charge, an overpriced bar, and almost no one dancing. Horrible, undanceable music boomed through the cavernous rooms, and the greying crowd just stood around drinking and clogging up the dance floor. In less than an hour, we decided to cut our losses and bail. On our way out, we passed a huge line of people trying go get in.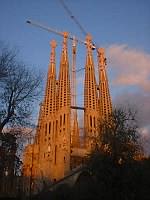 Gaudi's Sagrada Familia at sunset
Barcelona, Spain (15Dec00)
We managed to find another club, Moog, just down the street. It was the exact opposite of the first club. Everyone was dancing, either to the fantastic techno mix downstairs or the 80's music upstairs. The club had a great vibe, and I stayed until closing at 6am. By that time, it appeared that I was the only one of our group left. As I headed across the street back towards the hostel, however, I found one of my friends, wandering drunk and disoriented down the Rambla. I escorted her back to the hostel, but seeing as I was still wide awake, I decided to go back across the street to the 24 hour internet cafe to check up on emails.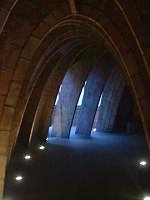 Inside the Pedrera
Barcelona, Spain (14Dec00)
By 7am, I was ready for bed. The cafe was only about 1/2 km from the hostel, but it turned out to be a rather treacherous 1/2 km. The area wasn't exactly the most wholesome, with a regular presence of prostitutes, drug dealers, and vagrants. Most were Moroccans, who legally or illegally, had immigrated to Spain in hopes of finding a better life. It appeared that many of them had settled into a life at least as desperate as where they had left. As I crossed the Rambla, one Moroccan came up to me. "Hello, how are you?" I was expecting an offer of drugs, or maybe just a request for money, but instead the guy put his arm around me like I was his long lost buddy, and then tried to lead me in some crazy, swaggering dance. He was not my long lost friend, and I had not requested dance lessons, so I knew he wanted something else. I reached my free hand back to check my wallet, and I intercepted his hand, just as he was starting to lift it out of my pocket. Foiled in his attempt at pickpocketing, he immediately turned off his "let's be friends" demeanor and walked off in a huff.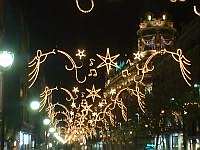 Spain during Christmas
Barcelona, Spain (14Dec00)
I continued walking into the plaza where my hostel was located. Just as I rounded the corner, I heard someone running up on me. Just as I was turning around to see what was up, a man jumped me. I couldn't tell if it was the same person who had just tried to pickpocket me, but at that point, it didn't really matter. He grabbed me and tried to get me to the ground, but I managed to get the upper hand and throw him off me. I immediately bolted around the corner, heading for the hostel door. As I ran, three more Moroccans appeared out of nowhere and joined in. I got to the door just as they caught up with me. I frantically rang the buzzer, hoping that the receptionist on duty was at his desk. At that point, the four of them had me cornered, and one of them pulled out a knife. After a very tense couple of seconds, the receptionist at the hostel stuck his head out the window and yelled something in Arabic. They all fled instantly. I heard the buzz of the door lock, and I pushed open the door and walked into the safety of the hostel.
Strangely, every other time of day and night there was always a large police presence in the plaza, but I guess they took the mornings off. Also, I always carry pepper spray with me for just such occassions, but since I was wearing my new jeans, skintight as was the Spanish fashion, I didn't have anywhere to put it. Also, knowing the neighborhood, I only had about 1000 pts (US$5) on me. The only damage was to one of my front teeth, which got chipped when I was jumped. The tooth was actually a crown, so all I had to do was get out the file on my Swiss Army knife and grind it back into shape. Fifteen minutes after the incident, things were back to normal, and I shuffled off to a long sleep.
My final stop in Spain was Figueres, famous for Salvador Dali's Teatre Museu, which is a renovated theatre completely redesigned by Dali himself. It was quite amazing seeing Dali's work beyond the realm of painting for which he is mostly known. The entire building was a piece of artwork, with dozens of giant eggs, statues with guilded loaves of bread balanced on their heads, and other odditites decorating the exterior. Inside, the building housed as many strange sculptures and interactive exhibits as it did drawings and paintings.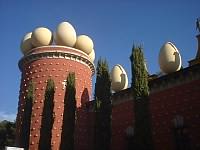 Teatre-Museu Dalž
Figueres, Spain (18Dec00)
The museum was, however, the only redeeming thing in Figueres. The rest of the time I spent trying to find accomodation. After trying every building claiming to be a hotel, and finding the youth hostel closed for the winter, I was starting to get desperate. I came upon a building advertising "Habitacion/room/zimmer/chambre." No one seemed to be around and the front gate was locked, but someone in the building came out, so I went in through the open gate. I headed up several flights of stairs looking for anything resembling a reception, but the place looked both deserted and condemned. It didn't look like anyone had been in there for months. As I worked my way up the stairs, it got worse. The stairs were covered with hunks of meat and garbage, and mangy cats had taken over. The place was too scary and disgusting even for my standards. I headed back for the exit, but I found the gate locked, and there was no buzzer to unlock it. With no way out the front, I began to look for a rear exit. There was only one window in back, and it had a 5 meter drop into an enclosed courtyard below. I seriously contemplated trying to scale down the wall, but even if I made it, there was no clear way out of the courtyard. I was trapped. I went back to the front gate and waited.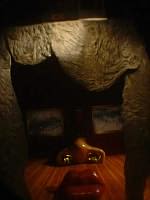 Dalž's Mae West room
Figueres, Spain (17Dec00)
After half an hour, someone finally came in the front gate. I was tempted to ask what circumstances led to their being in that god-forsaken building, but all I really wanted was out. I darted out the gate like a rat fleeing from a sinking ship.
It took another hour of wandering town to finally find a place to stay, by which time I was pretty much fed up with Figueres. It was my last night in Spain, and it seemed an unfitting end to a country that I had grown to love. Despite the events of the past few days, I would definitely be back.