The time came to leave La Paz, so we bid farewell to our favorite taco stand and migrated south, to a town called Los Barriles. The original plan was for me to go by bicycle. This was, after all, a bicycling trip for me, and I didn't bring a bike, four panniers, dry bags, tools, spare spokes, and biking clothes just for the challenge of extra baggage. My bike was not, however, ready to go, seeing as I retrieved it from my storage area ten minutes before leaving home. The allure of playing pool, margaritas, tacos, and ice cream (not to mention the internet cafe) left little time for bike preparations. It was clear that there was no way I was going to be ready by the time we left. Luckily, with the additions of Trina, Mark, and finally, our friend Robert, who arrived just in time for our trip to Los Barriles, we had outgrown Guy's Durango and had to rent a second car. This left ample room for me and my bike.
The car we rented was a brand new VW bug. Not a redesigned, retro bug like you'd find in the states, mind you, but a new old bug. Mexico has one-upped us by bypassing the retro new bug altogether and advanced directly to the retro-retro bug, an amazing recreation of the original. Through years of painstaking research of extracated remains, they have managed to reproduce it in every detail, including, unfortunately, the gutless motor. Guy's Durango powered its way up the numerous steep grades enroute to Los Barriles, but the poor bug, with Trina at the helm, gasped and lurched up even the smallest hills. It was a good thing I wasn't trying to bike over these grades!>/p>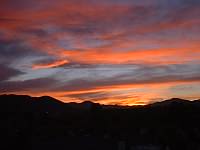 Los Barriles is a small town - mostly narrow dirt streets and simple, cinderblock houses. Each yard was usually marked by a barbed wire fence, apparently to differentiate the cacti in the yard from those outside. Abandoned vehicles, usually rusted to within inches of their lives, were often found in the yards. A guest bedroom, perhaps? One yard contained a rather large boat. It must have been quite a job moving it there, seeing as the water was manmy blocks away.
What makes this town different from most of the others in Mexico is location, location, location. Situated on the Sea of Cortez, Los Barriles serves as a great launching point for fishing, rivaling Cabo San Lucas. This guarantees a steady stream of visitors in the summer. It is also located in one of the few places in the world that has just the right combination of wind and water to create ideal windsurfing conditions, guaranteeing a steady stream of visitors in the winter. As a result, Los Barriles is well on its way to becoming a developed tourist destination.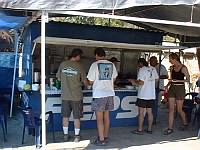 The warning signs have already arrived - a modern, mini-strip mall like shopping area, construction everywhere, items priced in US dollars instead of pesos, and American style eateries - at near American prices. Due to a slip in judgement, we were able to experience the latter first hand. We chose to eat at a restaurant called Mañanas. The menu (all in English, of course) looked like a cross between a Chevy's (Mexican food chain in CA) and a Chili's (American food chain in CA.) I opted for vegetable fajitas to offset the lack of fiber in my carne asada diet, and it was actually surprisingly good. During dinner, we were entertained by a lounge singer, playing cheezy covers of Bob Marley, Jimmy Buffet, Eagles, and Santana. At one point, someone came in and sat down next to us wearing a Bi-Rite T-shirt. Bi-Rite is a tiny market owned by a friend of a friend, which is located two blocks from my house in San Francisco! It appears that Los Barriles has become somewhat of a "Bay Area South." It was clear I was not in travel mode. I had entered the Vacation Zone.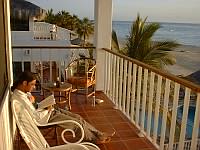 I see travel and vacation as two different things. Travel is when I don't have a specific plan, only a general intent and a desire to be moving. Travel is when I try to live as cheaply as possible, taking local transportation, eating food from street vendors, staying in the cheapest place I can find where I can lay my head. I love to travel alone. Vacation is when I want to relax, be pampered, and usually stay put in one place for a while. Vacations are best spent with friends.
Anyone who has traveled understands the need for a travel budget. Most anyone who has traveled also has learned how to justify completely ignoring the budget at times. Photography is one such luxury for me. I'll spend $10/day on photo expenses while passing up running water in my room to save $1. Such a vacation spending mentality make it easy for me to justify $70/day to windsurf. Really, I had no choice. I've paid hundreds of dollars to fly to places like Hawaii, Costa Rica, and Aruba, just to get wind. Here I was, in one of the premier windsurfing spots in the world, and it was blowing. When we arrived, there were people out on the water. Unfortunately, it was too late to rent gear, so I had to just sit and watch. Sit, that is, on the balcony of our hotel room, which was 50m from the water, sipping margaritas. Our rooms were simple, but clean, cheap (US$45/night) and right next to Vela, the windsurfing rental place.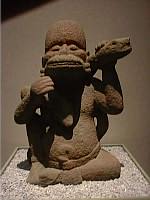 That night we prayed to the wind god, which in Mexico is called Ehecatl. Marc even threw a chocolate chip cookie into the water as a sacrifice. The next morning we were rewarded with the best winds in a week. I sailed from 11 until 4:30, not even bothering to stop for lunch. The gear had to be back at 5, but my harness broke at 4:30, and when I tried to go back out with a new one, the wind had died. (For you windsurfers out there, I sailed 6.2, then 5.4, then 4.2, then 5.4.)
As a result of sailing all day, I managed to rip a hole in my hands. Mark, never one to be outdone, tore a huge chunk out of his foot on the rocks. That pretty much put an end to his day of sailing. Perhaps we should have made a sacrifice to the patron saint of good foot health.
The next two days there was no wind, and I finally ran out of excuses to not work on my bike, so while the rest of the gang played just about every card game imaginable, I stayed in the hallway and overhauled my bike: new brakes, clean drivetrain, rack and pannier adjustment, and wheel rebuilding. My rear wheel hadn't been retrued since the time that a pannier went through my rear wheel in Vietnam, wiping out four spokes. I could tell which they were because they were the ones that had rusted. I decided that I really didn't want my rusty spokes breaking, so I replaced them. I should have remembered: if it ain't broke, don't fix it. Truing spokes on a wheel is like tuning guitar strings: once you start, you have to adjust them all over and over again, until you get tired and give up. Luckily, after an hour of wondering if my wheel would ever clear the brakes again, I managed to get it true.
I also devised an elaborate and bombproof way of attaching my camera to my rack, having learned the hard way in Vietnam that a single strap was not sufficient (but that's another story.) I tied the bag down with clips in three spots, then put an elastic netting over the top. I needed something to tie the netting down, and I found the perfect thing at the local store - huge fishhooks (40 cm long.) A quick use of the pliers on the business ends of the hooks, and I had just what I needed. When I bought them, they were priced at $9 a pair (they use the $ for pesos, too.) As they were being rung up, I realized that they were US$9!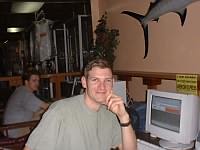 I also seemed to spend a lot of time in the internet cafe, debugging. I would go in the evening and just walk home in the dark once I was done. The first night I did so, I was walking along the nice, brand new sidewalk, when before I knew what hit me, I was on the ground, with cuts in both hands. It turns out that the sidewalk just ended - with an 18" dropoff onto rocks. I didn't make that mistake again.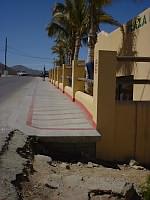 Every once in a while I would take a break and head down to the pool to write and to listen to the rich couples from Marin argue about what furniture to buy for the house. At night, we would usually all head out for tacos (having found a good taco stand) and then play cards all night. It was a good life, but I was itching to move. I wanted to sleep on a lumpy, sagging mattress, to spend 18 hours in a noisy bus watching bad movies, to feel the wind in my face as the ground flew by. It was time to leave the vacation zone. It was time to travel.