I imagine the feeling I had must have been similar to that of parents, having just dropped their kids off at their grandparents for the week. I loved my bike dearly; in fact, I had a hard time imagining my life without it, but I suddenly felt tremendously free, almost deviously free. No more blown tires. No more broken cables. No more grinding up hills, counting the hours until I hit the downhill. My bike was safely stored away, left behind in a hotel room in La Paz. I wouldn't see it again until I was on my way home.
I had ten days. Ten days until I had to catch a flight home, meet a friend before she headed back to the midwest, then rush over to my sister's wedding. In those ten days, I wanted to see Bolivia. Not all of it, of course, but an area known as the Salar de Uyuni, or the Uyuni salt flats. Everyone told me of the marvels it had to offer; an expansive plain of salt as far as you could see, high multicolored lakes, and strange rock formations. No one could put it into words, but everyone said the same thing; "You have to go." So I did. With so little time left, biking was out of the question, so I surrendered myself fully to the traveler's circuit.
The first stop was the mining town of Potosi. Potosi has several claims to fame. First, it is the highest city (of its size) in the world. Second, it was the most prolific silver mine in the world, producing countless riches for the Spanish. As a result, it was an incredibly wealthy city, but as the silver veins dwindled, so did Potosi's prominence.
The mines are still in operation, but they produce far more zinc now than silver. Instead of being run by the state, the mines are now run as a cooperative, with each mine having exclusive rights to individual veins. They get to keep whatever they mine. The conditions in the mines, however, haven't changed since the invention of dynamite. You can still tour the mines, and doing so is like taking a trip back in time. Navigating the mines was much more reminiscent of spelunking than of any mine I've ever seen. Narrow shafts darted off in all directions, and often you had to crawl to get from one chamber to the next. Every few dozen meters would be a deep, seemingly bottomless pit in the ground. We were given old naked-flame headlamps for light, which made it very difficult to see. And most of the passageways were about four feet high, forcing mt to crouch the entire time.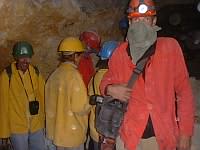 Sucking in asbestos fibers
Potosi, Bolivia(6Jun00)
Miners were busy working while we went through. In order to extract the ore, they hammer a long metal bit into the rock, then place a piece of dynamite in the hole and blow it up. They would then use wheelbarrows to cart out the ore. Miners would constantly be squeezing past us in the narrow shafts, trying to get onto the next load. In order to make up for the annoyance we created, we would give gifts of coca leaves, cigarettes, and condensed milk. They would chew coca almost constantly, to help give them strength to make it through long hours spent mining.
Oour guide once worked the mines, but moved on to giving tours. Unfortunately, it had been a little too long since he had been in the mines,and he soon had us completely lost. He tried to maintain the impression that he knew where he was, but he would then quietly tell his "assistant," a boy of about 10, to bribe the miners with coca leaves to tell us how to get out. As we were wandering, trying to find our way out, a large explosion went off, and the entire mine shook. Smoke started filling the passageway, and before we knew what had happened, another blast went off. Someone was dynamiting right next to us somewhere. We ran to escape the fumes, but got to a dead end.
Eventually, we had to just hold our breath and push forward back through the toxic smoke to get back to the right shaft. It's hard to imagine that the miners live long after being exposed to all those dynamite fumes, asbestos, and pulverized ore that wafts through the air. Eventually, after several more redirections from miners, we found the exit. I unfolded myself from the tiny opening and streched out into the infinite expanse of clean air and blinding light.
My tight schedule left little room for idling, so as soon as we made it back into town, I was preparing the next attraction; the Uyuni tour. The southwest of Bolivia, still part of the altiplano, is vast and sparsely populated, with only 4x4 roads for access. The only practical way to see it was part of a tour, and the demand had created quite an industry. Dozens of companies run nearly identical tours - four days in a 4x4 truck, with food and accomodation, visiting the Uyuni salt flats, Laguna Colorada (colored lake,) Laguna Verde (Green Lake,) and various other sights of interest along the way - all for about US$70. In order to guarantee myself one day for shopping in La Paz, I needed to start the following morning, but I hadn't booked anything, and I wouldn't be arriving in Uyuni until after business hours. So I just picked up the phone, called an agency at random, and within five minutes, was all setup. They told me to knock on their office door once the bus from Potosi arrived.
All I had to do was get myself to Uyuni. It was just a simple matter of a bus trip, which turned out to not be so simple. In order to get to the bus station, I had to take one of the numerous "combis." Combi is basically the Bolivian name for a mini-van, bus, or just about any vehicle that runs and can carry more than a couple passengers. Each one has a series of names plastered on the windshield, none of which were familiar to me. After carefully asking someone for the correct combi, and after specifically telling the driver which bus I was trying to catch, I still got dropped off at the main bus terminal. According to local sources, my bus didn't leave from the main terminal, but rather from somewhere about three blocks down the road. Unfortunately, even after three blocks, I was told the same thing, that it was about three blocks away. Eventually, one man I asked offered to take me there, so I followed. After walking a few blocks down a side street, I started to get suspicious. The man kept gesturing that it was just ahead, but I was getting a bad feeling, so I asked the next person I saw where the bus stopped, and he pointed behind me. I instantly flagged down a taxi, and had him drive me away, all of two blocks back to where the buses did indeed leave.
The bus ride was uncomfortable, to say the least. My window kept rattling open, and icy air would pour in, waking me up from whatever tentative sleep I could catch. Others, obviously seasoned travelers on the Potosi - Uyuni circuit, brought their own rolls of packing tape with them, and sealed shut their self-opening windows.
After nine hours, at 4am, the bus finally rolled into Uyuni. 4am is about the worst time to arrive in a town, because it is too early, cold, and dark to do anything, but all the hotels are closed up tight for the night. So imagine my surprise when I was greeted as I got off the bus by the woman from the tour group, whom I had talked to the previous afternoon. She took me to the office where, under the glow of a gas heater, I filled out the paperwork and paid my money for the tour. I was then escorted to a nearby hotel, where the proprietors had already been woken up for my arrival. I went straight to my room and straight into bed.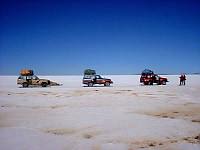 Caravan on the salt flats
Salar de Uyuni, Bolivia (7Jun00)
The weight of the blankets was crushing, but it was still too cold to venture outside the next morning. I stayed completely submerged under the blankets until the last possible moment. I had a hard time determining when that was, as I had apparently ripped the stem out of my watch the night before unloading my bag, and it was quite some time before I had noticed and had managed to push the remnants of the stem back in to restart the watch.
When I arrived at the truck that was to be my home for the next four days, all of my fellow passengers were waiting for me. There were seven of us in total, including Catherine, Andy, Claire, and Charlotte from Britain, Vincent from Italy, and Haley, another American. We also had Filipe our tour guide and Maria, our very own cook. The first stop was the salt flats themselves. The remnants of a dry salt lake, the blinding whiteness of salt continued on as far as the eye could see, until it blurred into the blue sky at the horizon. The only discernable feature was the odd hexagonal pattern that had formed on the surface, the result of the salt crystalizing as it dried from an earlier rain.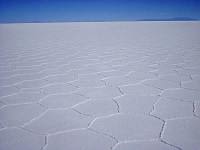 Salt as far as you can see
Salar de Uyuni, Bolivia (7Jun00)
The dried salt, as it turns out, makes for a rather good building material, and out in the middle of the vast white was a hotel constructed entirely from salt. Even the tables and chairs were cut from salt slabs. If that weren't odd enough, in the middle of the dried lake was a rock "island" - Isla de Pescado, which was covered with cacti!
On our second day, things only got stranger. We visited a number of smaller salt lakes, which were at such a high altitude (almost 4900m, or 16000 ft.) that they were partially frozen. Living in these lakes were flocks of flamingos. One of the lakes, Laguna Colorada, was a deep red color, due to algae, and another was green. All around, the landscape looked very Martian, with desolate red soil and bizarre rock formations. I was fully expecting to look up and see marmalade skies appear.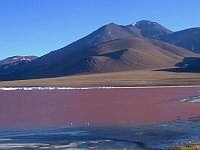 Laguna Colorada
Near Uyuni, Bolivia(8Jun00)
Our nightly accomodations were, well, cozy. Each night, all seven of us would share a single room, making for lively conversations and fast friendships. During the days, we had hours on end to talk, and we covered the whole range, from politics to religion to relationships to the latest British slang. Being British by blood, it gave me a good chance to update my vocabulary with such colorful expressions as "The dog's bollocks" (the best) and to "get on one's tits" (to get annoyed.)
At our furthest point out, on the third day, we were only an hour or so from Chile. I gave some serious thought to leaving the tour, and working my way back to La Paz via Chile. This option had the unique advantage that it would have allowed me to sample "Feeling Black," an ice cream that, along with Moreno Glacier, was on my friend Janet's list of two things not to miss in Chile. Once I did the math, however, I realized that it was going to cost several hundred dollars more; a high price to pay for an ice cream, but I would hae done it, had it not increased the chance that I'd miss my flight, and therefore, my sister's wedding. So instead I decided to stick with my friends on the tour and take the long drive back to Uyuni.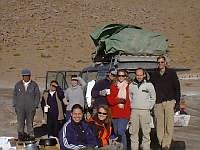 The tour group
Near Uyuni, Bolivia(9Jun00)
An overnight train trip later, and I was back in La Paz. I had about a day and a half to do all of my gift shopping and take care of all of my errands before beginning the long trek home. Bike touring had been a convenient excuse to not bother buying anything, since I didn't want to carry it, but since I was on my way home, all bets were off. La Paz is an amazing place to shop. While carrying the usual fare of weavings, clothing, pottery, etc. it was also an excellent source for those hard to find items like llama fetuses and llama toenail marimbas. Having had already received the llama toenails as a previous gift, I was all ready to get a llama fetus to reciprocate. But not knowing what one would use one for in western society (Peruvians use them as a sacrifice for new buildings) it seemed like a waste of a perfectly good llama fetus. Anyway, I'm sure it wouldn't be easy to get through customs.
My shopping binge over, it was time to begin my marathon haul back home. It was a grueling lineup with little room for error: an evening bus to Desaguadero, a morning bus to Puno, another bus to Juliaca, then an afternoon flight to Lima, an evening flight to Mexico City, a connecting flight to LA, and finally, a flight back to San Francisco.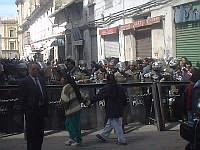 Riots in La Paz
La Paz, Bolivia(12Jun00)
Things started off rocky from the word go. In fine South American tradition, there had been protests and strikes that day,so it never was clear if there would be any buses at all. All the tourist agents said that there were no evening buses, but I had heard that there were local buses running all the time, so I just headed up to the "cemetary district" where the buses supposedly departed from. I was hoping the drivers worked the graveyard shift. By this point, I had an entire entourage with me: my front panniers, my back panniers connected together as a backpack, my camera gear, varios bags full of books and ceramics that I had bought as gifts, and, of course, my bike, wrapped up tightly in a box that I had found in town earlier. The next bus to Desaguadero didn't leave for three and a half hours, but there was a bus to Copacabana that left within an hour. All I needed to do was get close to the border, so that I could cross it as soon as the border station opened in the morning.
The bus didn't leave when it said it would, of course, but instead stood parked for a good two hours. We finally got rolling about 10pm. That would put me in Copacabana about 1am, which was later than I had hoped, but still left time for some decent sleep. The bus was freezing, but I figured I could endure it for three hours. Unfortunately, I had forgotten about the short section of lake we had to ferry across, and no one had mentioned that possibility that the ferries wouldn't operate at night. So at midnight, on the northern shore of Lake Titicaca, the bus pulled into a line of waiting vehicles, and turned off the engine for the night.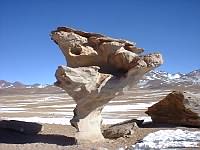 The Tree of Rock
Near Uyuni, Bolivia(8Jun00)
The cold air in the bus was biting, and everyone else on board was buried underneath a pile of thick alpaca blankets. My sleeping bag was packed away in my bike box, which was locked in a storage compartment under the bus. There was no way I was going to get a wink of sleep without it, so I pounded on the driver's door to get the key to the storage compartment. He eventually appeared, only to mumble something about the key being over the tire. I had no idea what he was talking about, so I went outside and tried to see if the compartment was already unlocked. It wasn't. My mind frantically weighed the options; go back to an already disgruntled driver and make him unlock it, try to work over one of the old ladies on the bus and steal her blankets, or use brute force to get my sleeping bag. I chose the latter. Already pissed off by the fact that I was going to have to spend a freezing night on the bus, I had ample adrenelin coursing through me. With one sharp pull, I ripped the latch off the door, and swung it wide open. I yanked my bike out, tore open the box, and snatched out my sleeping bag. I then tossed the box back in the bus, and tried to latch the door shut as best I could. By this point, I had drawn the attention of everyone on my side of the bus, including one individual, who was sitting above the rear tire, who seemed especially concerned. He apparently was the keeper of the key, and as I headed back to my seat, he grudgingly trudged outside in an attempt to undo the damage I had done.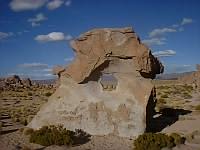 Strange rocks
Near Uyuni, Bolivia(9Jun00)
I was awoken at 5:15 in the morning by a group of women who were merrily blabbing away. Apparently Peruvians wake up early. 45 excruciating minutes later, we were all escorted off the bus, where we had to stand out in the cold and wait for the boat to take us across the straight. The boat could only take a dozen people at a time, so it was 45 minutes before I was on my way across. The bus arrived a half hour after that, and we all piled back on for the final stretch to Copacabana.
We arrived in Copacabana at 8am, just in time for me to catch a combi to the border. The combi wouldn't actually cross the border, so I had to carry everything by hand 300ft across the border to the Peruvian customs office. As I was walking across with my bike, the customs officer at the border, thinking that I was importing a new bike, wanted me to pay tax on it. A quick peek inside quickly cleared him of that misconception.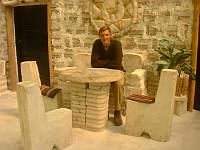 The Salt Hotel
Salar de Uyuni, Bolivia(7Jun00)
The next few segments of my trip went fairly smoothly, and by 9pm that evening I was in the Lima airport. I had brought my ticket home when I was last in Lima, but they didn't have my ticket ready before I left, so I instructed the travel agent to leave it at the hotel I had stayed in when I was there. I had left careful instructions with the hotel that someone would be dropping off a ticket for me, and a few hours before my return to Lima, I had called both the travel agent and the hotel to ensure that my ticket would be waiting for me. My flight left at midnight, so I barely had enough time to take a taxi into town, recover the ticket, and return. Continuing the theme of my hellish dash home, the ticket wasn't there. There was, however, a message. The agency had long since closed for the day, so I was given the agent's home phone number. After screaming her ear off for a few minutes, she assured me that she would send someone right over with the ticket. With no other option, I sat in the taxi and waited, watching the minutes until my departure tick by. Miraculously, my ticket arrived within half an hour, and we were soon speeding off to the airport. Taxi drivers are notoriously crazy in Lima, but my driver took crazy to a whole new level. We raced through red lights, went the wrong way down one way streets, and weaved between lanes, getting back to Lima airport in about half the time it took on the way out and even with a few minutes to spare. I left a big tip, partially to thank the driver, and partially as an offering to the traffic gods in appreciation for our not getting killed.
A long nap later, and I was in LA. So close; but still so far. While standing in line at LAX, a couple noticed my bike box and started asking me about the trip. "What was the hardest part of the trip," they asked. I jokingly replied that the hardest part was always getting from LA to SF. They laughed, but I wasn't far off.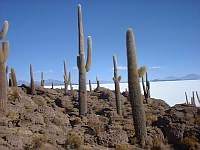 Isla Pescado
Salar de Uyuni, Bolivia(7Jun00)
First, I had to do my now well rehersed argument when they wanted to charge me $40 to check my bike. The whole ticket only cost me $60, and I could have brought any number of skiis, snowboards, or golf clubs, at no charge. I had decided to fly to Oakland so I could avoid flying United Airlines, since they have overcharged me so many times before, but apparently Southwest is no better. Then, upon arriving in Oakland, they lost my baggage. I've flown all over the world with my bike and never had any problems, but every time I fly within the US, they lose something.
Fortunately, they lost the heaviest bag, so it made carrying everything easier. After discovering that my ride home had fallen through, I lugged everything over to the BART (local transit) station, for the trip to the other side of the Bay. I then shlepped everything up to the curb so I could get a taxi home. But I had forgotten how bad taxi service in San Francisco is. I had been spoiled by being in countries where the taxi drivers actually want your business, where they will go out of their way to help you, no matter what you're lugging around.
I sat on the curb for 45 minutes, only getting two taxis to stop, neither of which were interested in taking me. So finally I decided to screw them, and proceeded to load up my body with my panniers, my camera, and two bags full of breakable ceramics. I then balanced my bike box on my head, and slowly waddled the seven blocks uphill to my house. Like it or not, I was home. As I slowly unpacked my bags, I noticed two large bags of coca leaves, which I had bought way back in Peru, still in the outside pouch of my panniers where I had left them. Maybe it wouldn't have been so hard to get that llama fetus through customs after all.