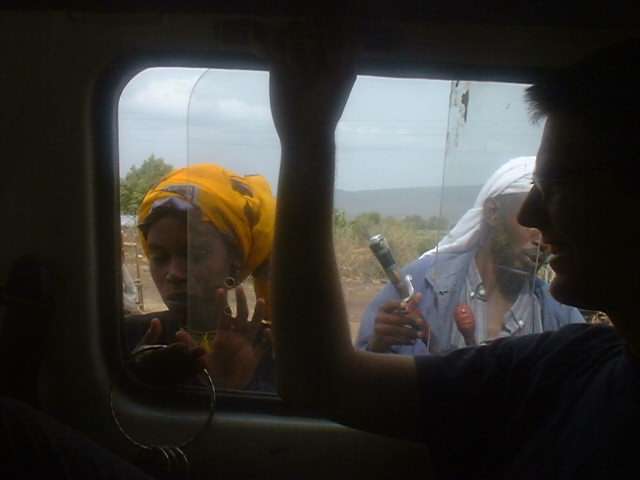 Wanna buy something?
Samburu, Kenya (5Mar01)
Nairobi was an enigma. Its reputation for crime is legendary and has earned it the nickanme "Nairobbery." Most people see it as a dirty, dangerous pit which serves only as a necessary, although unpleasant travel hub. Yet Nairobi was far too complex of a place to write off so easily. I was expecting a large, sprawling, industrial capital, too big to get my bearings easily, with an abandoned city cneter, rotted out by crime and off limits to all but the truly desperate.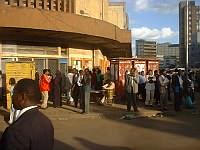 Street scene
Nairobi, Kenya (28Feb01)
Instead, I found just the opposite. The city was inexplicably small, with a lively and well defined center. The strangest part, however, was that despite Nairobi's rather rough and dirty appearance, it had a very large middle-class population. The city was swarming with men and women emmaculately dressed in business attire, buzzing too and from work. Not to say that the destitute , downtrodden, and desperate were not well represented. Walking around town was always a draining experience, requiring both physical dexterity and a degree of callousness to navigate through the hoards of women with babies, children, and other desperate souls clinging to you, begging for money.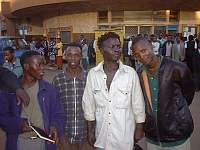 People in the streets
Nairobi, Kenya (28Feb01)
Perhaps even more taxing were the seemingly endless suppply of people trying to sell me package tours. I couldn't walk alone for more than ten seconds before one of them would glom onto me and try to sell me a safari. For every tourist they brought into a tour company office, they would be paid a small commission, and however small it was, there were certainly plenty of people clamouring for it. As much as I hated to admit it, I was the client they were looking for. I don't like tours, not one bit. I am an independent traveler, and I hate having my travel experience "packaged" neatly for me. Yet as much as I tried to fight it, I couldn't resist the temptation to visit the mythical Africa, the one where AIDS, poverty and politics didn't exist, where wild animals truly ruled the wild and had complete jurisdiction over the land. I wanted to go on safari.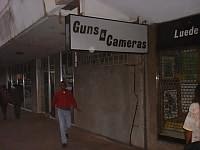 All your shooting needs
Nairobi, Kenya (28Feb01)
Short of hiring my own car at great expense and driving on my own, the only feasible way to do it was to go with a tour company. The number of safari companies in Nairobi was mindboggling: Planet, Savuka, Best Camping, Out of Africa; they went on and on. After half a day of having every person on the street shove brochures in my face, I eventaully realized that the best thing to do was to give in. I wanted to shop around the various agencies anyway, so I brought Frederick, one of the street promoters, along with me. Not only did he patiently take me from office to office, he also served as an effective repellent for the other touts; apparently, they don't tread on each others' "territory." Having an escort around town made things so much more hassle free, that I eventually kept one on hand at all times, even when I wasn't visiting tour companies. I went clothes shopping, camera shopping, and sightseeing, all the while innoculated against the plague of pamphlet pushers. At the end of my errands, I would buy my escorts a drink and a bite to eat to repay their efforts.
The tour companies were all cookie cutter copies of one another. Each offered the exact same deal - US$50 per person per day, including transportation, a guide, camping facilities, and three meals a day. They all ran out of shoddy offices on the top floors of run down buildings in the city center. In the end, the decision on who to book with was arbitrary, which made it all the easier for me to waffle in indecision over the selection. Recommendations from other travelers finally gave the edge to Planet Safari, and I booked a four day tour to Masai Mara and Lake Nakuru.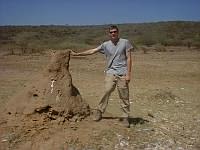 You think you've got ant problems..
Lake Bogoria, Kenya (4Mar01)
With my plans sealed, I had a little bit of time to kill, so I decided to go see if Nairobi really deserved the bad reputation it had been given. Culinarily, it was a disaster. The only local food I could find anywhere was greasy fried chicken served with soggy chips, and the overpriced tourist restaurants and fast food joints weren't much more appealing. The nightlife, on the other hand, was lively, although rather on the seedy side. My hostel was in an area which everyone claimed was dangerous and off limits at night, but with popular bars like the Modern Green Day and Night Club and Friends' Corner spilling over with patrons all day and night, it seemed like one of the safer spots in town. The one nightclub I visited, an infamous place called Florida 2000, was something of a cross between a brothel and a dance club. As far as I could tell, every woman in the place was there for purely business reasons, perhaps because being on the streets was just not a safe option. In any event, it was a fun place to dance, even if you weren't in the market for companionship, although the woman I was dancing with seemed none too happy when I bid her goodnight, handed her the last of my money for a cab ride home, and then left the club alone.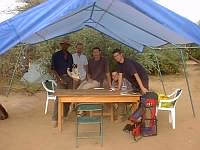 The Austrians
Samburu, Kenya (5Mar01)
My safari trip started the next day, and I was more than ready to get out of Nairobi. I, along with four other tourists were safely locked up inside a Toyota Land Cruiser, and off we went into the wild expanse of Africa. We had an interesting group; Bence, Philipp, and Philipp, Austrian anthropology students just back from a dig in Ethiopia, and Dr. Leo, a homeopathic doctor from Bombay. Dr. Leo, a self-proclaimed world expert in alternative medicine, was convinced that modern medicine was the root of all evil, and spent every second of his time with us trying to convince us as well. As a mild skeptic of western technology as a solution to all problems myself, I would normally enjoy a conversation on the topic, but Dr. Leo's bombastic tirades, intolerance of any dissent, and misrepresentation of the facts didn't do much to advance his cause.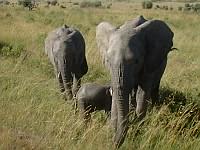 Elephants
Masai Mara, Kenya (2Mar01)
As acidic as things got, it did provide good entertainment for the long drive, especially when he starte making erroneous claims about the history of human skeletal development, not realizing there were three anthropologists in the car. At another point, he had the whole car helping to capture a tsetse fly, so that he could use it to make medicine to counter the effects of their bites.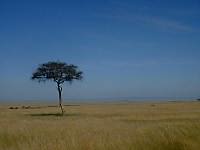 Beautiful desolation
Masai Mara, Kenya (2Mar01)
As we made our way to Masai Mara, our first park, we passed through a dozen towns and villages, and in each, the story was the same. Whenever we stopped, a mob of vendors would crowd around us, using any open window as an invitation to shove fistfuls of colorful beadwork, small carved animals, and other trinkets into our isolated, tourist bubble. Not wanting to be hidden behind a glass barrier, I would try to get out of the car so I could see people face to face, but nothing seemed to entirely remove the air of priviledge that being part of a tour created.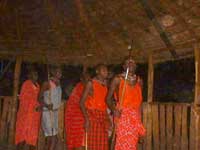 A Masai dance
Masai Mara, Kenya (1Mar01)
As we got out into the bush and started to see both wildlife and remote Maasai tribes, the line between game viewing and people watching inappropriately blurred. Our guide would point out, "These are Maasai people. They live in those huts just over there. Notice how their earlobes have been elongated" followed by, "This is the Masai giraffe. It has a spot pattern which is quite different from the retriculated giraffe of the north."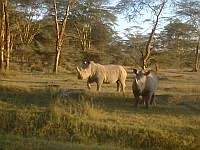 White rhinos
Lake Nakuru, Kenya (3Mar01)
As much as I didn't like being sealed up in a giant moving bubble, I was still awestruck at the sight of so many animals. In the first fifteen minutes, we saw herds of giraffe, wildebeast, hartebeast, gazelle, impala, as well as a pair of lions. The animals, obviously used to all of the attention, just carried on with their business, grazing without paying us the slightest notice.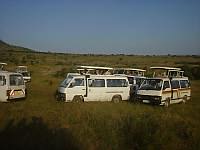 A herd of minivans
Masai Mara, Kenya (1Mar01)
Masai Mara is the Kenyan part of the Serengeti, and is Kenya's most popular game park. Given how easily accessible it was, it was regularly overrun with minivans full of camera toting tourists. As part of the safari marketing campaign, visitors were enticed with the viewing of the Big Five, the five traditional trophy animals of lion, elephant, buffalo, rhino, and leopard. As a result, once one was sighted, every minivan in the park rushed over for a view. For every lion or lioness, there would be ten minivans, circled around them like a campfire, each one jockying for the best view. The animals took it all in stride.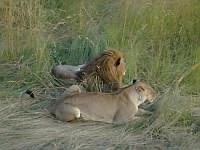 Lions
Masai Mara, Kenya (1Mar01)
One lion pair, not caring in the slightest that there were 30 voyeurs ringing them, mated right in front of us. It was an intrusive and pornographic sight; the male woke up from a long nap, walked over to the female, and within five seconds, had mounted her. After a good 20 seconds of furious activity, he let out a quiet roar, pulled out, and walked back to the same spot he had been a minute earlier, and immediately went back to sleep. It's good to see some things which transcend species.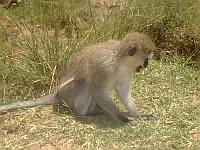 Vervet monkey
Masai Mara, Kenya (2Mar01)
We had three days in the park, and once we got further away from the entrance, the animal to minivan ratio improved dramatically. Our guide, Simon, was very knowedgable and very good at finding animals, making me thankful that I was not driving around aimlessly on my own. By the time we left the park, we had added topi, hippo, warthog, dik-dik, oryx, and gerenuk to our list, with a highlight being watching a leopard eat an impala in a tree just a few meters away from us.
With our tour of Masai Mara completed, we moved on to Lake Nakuru, where, in addition to seeing dozens of rhinos, the lake itself was teeming with thousands of flamingos. It made the lakes in the salt flats of Bolivia, also known for their flamingos, seem deserted by comparison.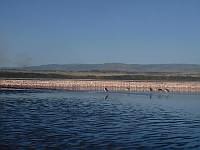 Flamingos
Lake Nakuru, Kenya (3Mar01)
It was in the hotel in Nakuru where I met Diana, a traveler from Argentina who was also on a safari tour of Kenya's game parks, although she was doing them in the opposite order. She had arrived in Nairobi a few days earlier, supposedly on a three week package tour to Victoria Falls, but when she arrived, she was told that her tour had been cancelled. She was left stranded alone. I had made tentative plans to climb Mt. Kenya in a few days time with a fellow Californian I met in Nairobi, but when Diana said that she was hoping to climb Kilimanjaro and wanted someone to go with, I quickly changed plans. Climbing with a cute Argentinian woman with long red hair beat out climbing with a California guy with dreadlocks any day. Since she had just started her safari, we both rearranged our schedules so that we would be in Nairobi at the same time.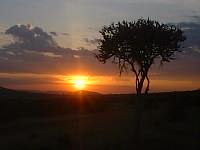 Sunset
Masai Mara, Kenya (1Mar01)
That left me with the choice between hanging out in Nairobi again for a few days, or extending my safari tour. I had pretty much reached safari burnout, but the thought of being shadowed as I wandered around the dirty streets of Nairobi was even more frightening than being locked in a car. I chose safari.
By this point it was just Bence, Philipp, Philipp and I, so off we went to Lake Bogoria, Lake Baringo, and finally Samburu National Reserve. Samburu, an arid savannah plain, lies just north of the equator, and the road ran almost parallel to it, crossing the equator three times. As a result, we got to pass though three different groups of tacky equator tourist shops in the course of a few hours.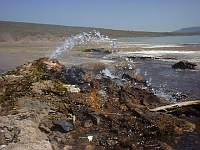 Hot springs
Lake Bogoria, Kenya (4Mar01)
Samburu, while still being a well frequented park, was much more remote and had much less traffic than Masai Mara, and herds of elephant were much more frequent than herds of minivans. We happened to stumble upon a group of seven lions feasting on a zebra and we were the only ones there watching. The crunching sound was rather sickening. We were also lucky enough to find a leopard mother and baby. For half an hour, we sat and watched the mother trying to get some rest laying on a downed tree, waving her tail back and forth to keep her child occupied. The baby swatted at it just like a kitten.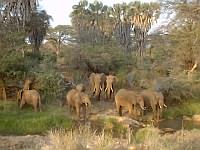 Elephants
Samburu, Kenya (5Mar01)
The facilities we had at Samburu wre pretty much the same we had everywhere - pre-pitched tents, outhouses, and a tarp-covered table for eating. I much preferred it to the luxury lodges that some people used when on safari, but I could have done without the swarm of cockroaches that came crawling out of the pit toilet every time I used it.
The drive back to Nairobi was long and tiresome, and by the time we arrived in town, it felt strange to be free from the confines of a vehicle, free to wander anywhere I wished. Where I wished to wander, however, was not Nairobi's dirty streets. I wanted to climb Mt. Kilimanjaro.