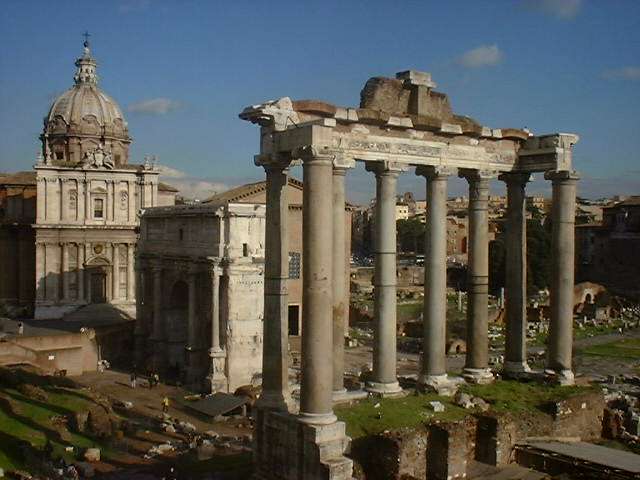 The Forum
Rome, Italy (9Jan01)
In an attempt to prevent widespread boredom by trying to write a bunch of jibberish about hopping on and off trains and visiting places like The Leaning Tower of Pisa and the Acropolis, I have decided to condense my two months in Europe into a series of short snapshots, profiling ten of the many cities I passed through as I may my way from France to Greece. Jibberish it may still be, but at least there is less of it.
Montpellier, France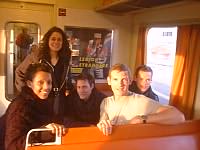 The train from Spain
Spain/French border, France (18Dec00)
Montpellier, my first stop in France, was conseqentially, where my language problems began. After a nearly contiuous string of Spanish speaking countries, I had grown used to being able to communicate, but in France, I was rendered speechless. It didn't help that my first interaction involved attempting to buy a very complicated open ended train ticket. I was hoping that a simple "bonjour" delivered with a sincere smile and some select gesturing would smooth over any language issues, but instead all I managed to do was tie up the whole queue while my frantic pointing and babbling left the entire ticketing staff staring in amusement. Fortunately, just as I was about to admit defeat, a woman in the queue came over, and speaking perfect English, patiently listened to what I wanted and carefully translated everything until I got the exact ticket I wanted.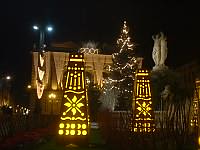 Place del la Comèdie
Montpellier, France (18Dec00)
Her name was Clara, and her kindness didn't stop there. Seeing as I was only in Montpellier for the evening, she insisted on serving as my tour guide. "You should see the Antigone, the Arc d' Triumph, the aqueduct, and maybe the cathedral. That's all you really need to see." She was right; Montpellier was the perfect place for a five hour evening stroll, but I wasn't committing a horrible crime of neglect with my whirlwind tour.
Chamonix, France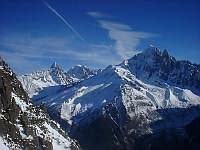 The view from Brevant
Chamonix, France (20Dec00)
Chamonix would not be the first choice for a budget traveler who was trying to avoid the expense of traveling in Europe. Located high in the Alps, in the shadow of Mont Blanc, it was full of overpriced gift shops, ski gear shops, bakeries, and bars; a ski resort town in every sense of the word. I didn't even want to think how much accomodation would have cost, but luckily, I didn't have to. My friend Vincent, the man I met climbing Mt. Toubkal in Morocco, was a mountain guide and lived just outside Chamonix. When he offered to let me stay with him, he probably thought he'd never see me again, but I wasn't about to turn down such a generous offer. I was put up in Vincent's daughter Julie's, room and she was relegated to share a room with her older brother Eli. I was even treated to a home cooked meal by his wife, Claudette each night.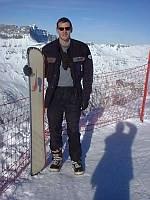 A day of vacation
Chamonix, France (20Dec00)
Being in Chamonix during the winter meant one thing - snowboarding. It wasn't exactly a budget activity, but after a couple of months of continuous travel, I was due for a "vacation." While the snow conditions weren't great, the views were. From the top of Brevant, the first ski resort I went to, it looked like the Alps went on forever. It was my first time boarding in the Alps, and my first taste of snow in over a year.
St. Columb, England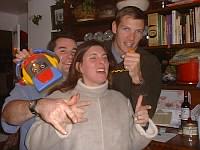 Singin' with my cousins
Newquay, England (26Dec00)
Having been treated like family in Chamonix, it was only natural for my next stop to be my real family in the Cornish contryside of England. It was Christmas time, and I really wasn't looking forward to spending Christmas alone inside some dark, expensive hostel in the middle of Europe. I much preferred the option of being pampered and stuffed to suffocation, and my fammily did not disappoint.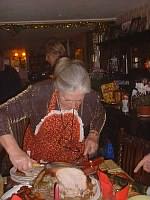 Serving up Christmas dinner
Newquay, England (25Dec00)
Two minutes after arriving at my aunt and uncle's farm, I was eating. My aunt had made an impressive spread, and in no time, I was nearly comatose from an overdose of sausage, salmon, mince pies, and champagne. I don't think there was a single moment of my stay when I wasn't either eating, drinking, or both. I also got to meet my cousin's husband Gary for the first time, and it was apparently his duty to make sure that I always had at least several pints of beer in my system during my stay. An outing to go surfing turned into a trip to the pub, another trip to the beach ended in the pub as well, and in fine St. Columb tradition, Christmas Eve was spent throwing back pints at the Red Lion. St. Columb may not come to mind when you think of the great party cities of Europe, but never underestimate the drinking capacity of a Cornish pub goer. Gary and I spent until 3am ringing in Christmas, along with seemingly everyone else in St. Columb. Everyone was out, from the 60 year old grandparents to the teenagers. Parents and children, side by side, drinking and dancing the night away at the local pub on Christmas eve. Apparently that Cornish tradition didn't make it across the Atlantic to the US side of the family. Christmas dinner, another paralyzing feeding frenzy, came complete with "tabletop" fireworks set off on one of the dinner plates on the dining room table. Every Christmas dinner should be as fun. I wonder if a package of fireworks would make it through the post for next year...
London, England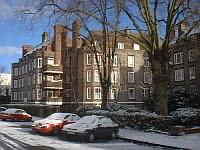 Yes, snow in London
London, England (28Dec00)
Granted, snow may not be a very common site in London. Given how quickly the city's fragile infrastructure came to a grinding halt when a thin white blanket fell, however, you would be led to believe that it was a 100 year event. All I had to do was get to the airport, and based on my calculations, perhaps biased by my newly aquired pub habit, I still had plenty of time for a couple of pints before hopping on the airport express train to Stansted airport. I obviously underestimated the impact that snow could have on London's already crippled rail system. Ever since it was privatized, Britain's rain service seems to have completely fallen apart. Just two stops from the terminal, the train finally gave it up, unable to manage the icy tracks. I was forced to dash out of the terminal and catch the only transportation going - a local bus, which leisurely meandered its way from town to town on its way to the airport.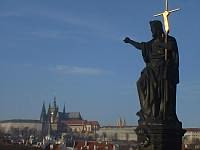 Guarding the city
Prague, Czech Republic (29Dec00)
I got to the airport 15 minutes after my departure time, but fortuantely, the airport was even more snarled with snow than the trains - my flight had been delayed three hours. I could hardly believe my luck. I had already resigned myself to missing my flight, and the time delay seemed too good to be true. Even though I had two hours until hte new departure time, I decided to go straight to the gate. Bad idea. Stansted airport, London's latest and supposedly greatest expansion airport, was a nightmare. In order to get to the gate, I had to take a train, which whisked me from the well stocked and bustling main building out to the distant and barren reaches of the airport, where my plane was supposedly departing from. Upon arrriving, I found my gate deserted, with no evidence whatsoever of my flight. I decided it was best to go back to the main building, but thanks to someone's brilliant planning, the train only carried passengers one way. Once at a gate, there was no way back. It was another three hours before a representative of the airline deigned to make an appearance. After a second delay of another three hours, I was beginning to wonder if I had been so lucky after all. I eventually got on my flight to Prague, about six hours late.
Budapest, Hungary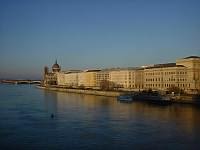 Pest by the water
Budapest, Hungary (1Jan01)
Deciding what to do for New Years is a dilemma even when I'm at home, but having the chance of traveling to any city in Europe made the decision even harder. London, Prague, Berlin, Rome? I eventually decided on Budapest, partially because it was an inexpensive option, but mostly because Budapest has always intrigued me. Once two separate cities separated by the Danube, the hilly Buda eventually merged with the flatter, industrial Pest, to form what was originally called Pestbuda.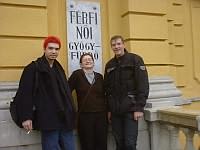 Kevin, Marion, and I
Budapest, Hungary (31Dec00)
I decided to show up a few days early to settle in, and so I moved into a tiny but vibrant hostel called Yellow Sumarine/Lotus. Apparently the Lotus name was a holdover from a previous owner, but it could also describe the position you would have to get into to use the toilet in the closet-sized bathroom. Every nook and cranny in the hostel was used, but the intimate space made it easy to meet other travelers, which is exactly what I wanted to do.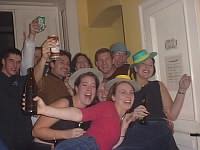 Happy New Year!
Budapest, Hungary (31Dec00)
I met many people, including Marion and Natasha from the US, Kevin from Spain, and Glenn from Poland. Everyone would gather around the kitchen table, tell travel tales, and slowly deplete the fridge of its supply of beers. I was trying to build up to a climactic New Years, but I think I peaked early, probably due to thet introduction of absinthe the night before. Relatively speaking, New Years was a quiet evening, spent dancing until three at the giant pavillion in the city centre.
Pisa, Italy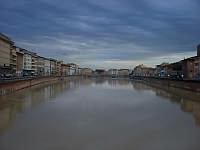 Pisa, Italy (6Jan01)
As much as I enjoy traveling alone, it is always nice to meet up with friends from back home. Such was the case in Pisa, where I met up with my friends Doug, Arthur, and Lyssi on holiday in Italy. Pisa is a small, quiet, and typical Italian town, with the exception that it is home to one of the world's most iconic buildings, the Leaning Tower. Lyssi grew up in Pisa, and her family still lived in a beautiful building right in the middle of town. THey were generous to let me, a near total stranger, straggly and dirty from months of travel, stay in their wonderful house, with views of the tower of Pisa from the bathroom.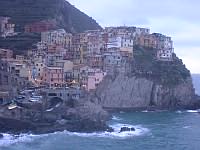 One of the Cinqueterre
Manarola, Italy (5Jan01)
Meeting up with my friends, however, made me realize how far, both physically and metaphysically, I had strayed from home. Once fully immersed in the fast paced, rich, all consuming world of Silicon Valley, my seven months of wandering the globe had changed me. Everything happened at a slower pace. Free time, once a precious commodity which had to be saved and savoured, spent carefully so as not to waste a single second, was now cheap, and it was money that was sincere. I was no longer obligated, or even capable to spend lavishly to make sure my free time was as pleasurable as possible. It was an expensive week. We would go out to dinner every night, and seeing as things were so "cheap" compared to San Francisco, spend US$50/head on a fantastic meal with great wines which would have cost twice as much at home.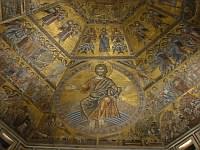 Ceiling of the Baptistry
Florence, Italy (4Jan01)
As much as we tried to make the most of our time, Italy did not take kindly to people rushing through. Only in Italy could a restaurant succeed advertising itself as "slow" cuisine, where a meal is dished out in small installments over the course of three hours, by a staff accomplished in the art of inattentiveness. Our one slow meal left us all arguing the fine line between leisurely paced and lax service.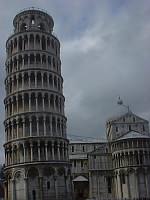 The Leaning Tower
Pisa, Italy (6Jan01)
When we weren't trapped in restaurants, we moved quickly, spending just a day in Florence, a city worthy of a week. With a nearly unlimited amount of Renaissance art on show, it was quite easy to reach cherub burnout. After our third museum in as many hours, we found ourselves wandering the expansive Uffizi museum in a daze, oblivious to the countless Michalangelos and Rafaels dotting the walls. We finally had to admit our art saturation and return to what we knew best - eating.
Rome, Italy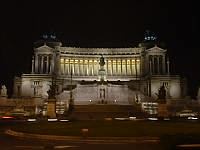 Monumento Vittorio Emanuele II
Rome, Italy (9Jan01)
Everyone must go to Rome at some ponit in their life. Rome is where history comes to life, where you'll find two thousand year old monuments interspersed amongst modern office buildings, with a tangle of buzzing streets and roundabouts tying them all together.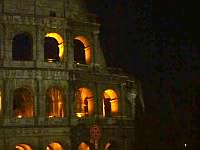 The Colosseum at night
Rome, Italy (8Jan01)
My first view of Rome was at night, at breakneck speed, as I rode around on the back of my friend Vincent's motorbike. Vincent and I met in Bolivia, and I was fortunate to catch him at home before he headed off to Armenia.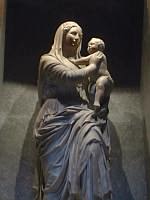 Inside the Pantheon
Rome, Italy (8Jan01)
Rome at night was a surreal experience, with all the monuments glowing like embers against the pitch black of the night sky. I spent four days in Rome, and really only scratched the surface of the amazing things it had to offer. I did manage to squeeze in the Colosseum, Trevi Fountain, the Pantheon, the Forum, and of course, the Vatican. The Renaissance was truly a rebirth in culuture in Italy, as much of the buildilngs and structures built during that time came from marble scavanged and pillaged from older structures. For many years, the Colosseum, once awash in marble, served as a quarry for other buildings, including the Vatican.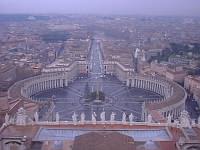 St. Peter's Square
Vatican, Italy (8Jan01)
The Vatican was larger than life, wiht the mammoth St. Peter's Basilica, with its giant Roman phrases ringing the walls, seeming almost a charicature of itself. The vast collection of artwork housed in the Vatican was impossible to digets in just one visit. I spent much of my time in the nearly deserted modern exhibits; the masses sticked exclusively to the Renaissance masterpieces such as Michalangelo's Sistine Chapel, and Rafael's frescos.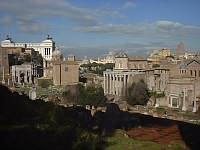 The Forum
Rome, Italy (9Jan01)
After four days of museum viewing and gelato consuming, I had reached marble statue overload, and it was time to move on.
Naples, Italy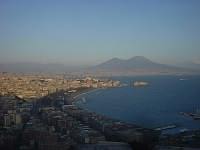 Bay of Naples
Naples, Italy (8Feb01)
Naples was the next stop on my family and friends tour of Europe, without whose generosity I would not have been able to spend as long as I did in Europe. I had originally planned to spend no more than a week or two visiting my friends, Marc and Rose, but they made me feel so much at home that it was hard to leave. I ended up staying five weeks.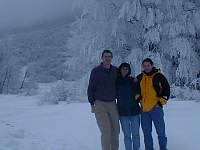 My friends Marc and Rose
Near Rocarasso, Italy (14Jan01)
Marc and Rose are friends from back home whose wedding was one of many I attended when I was back home over the summer. Rose, a doctor fo the US Navy, was stationed in Naples, so they will be living there for three years. They had a great apartment in the Vomero district, and I had my very own room. For over a month, I settled into a domestic lifestyle, working on the computer during the day and cooking dinner each night.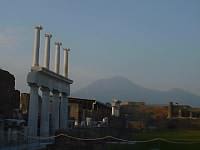 Pompeii and Vesuvius
Pompeii, Italy (16Jan01)
It didn't take long for me to develop a three cup a day coffee habit. There were several cafes downstairs from us, and I almost lived in one of them, Bellavia. Italians take their coffee very seriously. It is not a leisurely event, sippped sparingly from a sidewalk cafe like in France, but rather a short, sharp, surgical delivery of a vital drug. There are no chairs - only a bar. You walk up, place down you receipt, and wait. Once you are served, you must put it away in one throw and leave, freeing the bar space for the next addict. I would usually try to slow the process by ordering either a sfogliatelle, a scaled pastry with ricotta cheese, or a baba, a neopolitan rum cake shaped in tiny mushrooms of sticky goodness.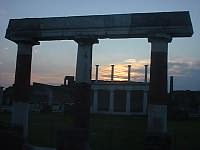 Sunset at Pompeii
Pompeii, Italy (16Jan01)
My time in Naples was really about slowing down and staying put for a while; having somewhere I could call home. I effectively coopted Marc and Rose's lifestyle, hanging out with their friends and joining them in outings. I helped pay my way by cooking, as well as filling in for Marc on the marital duties he dislilked, such as helping advise Rose where to hang their pictures and how to arrange the furniture.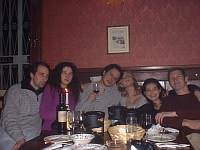 Naples, Italy (30Jan01)
I didn't play tourist very much, only making time to visit nearby Pompeii, but I did make it out into the city a fair amount. Naples, one of the most densely populated cities in Europe, was not a popular tourist destination and was known for its high crime and unemployment rates. However, it was a wonderful city; very livable and genuine, unlike places like Venice. As long as you weren't driving, that is. Neopolitans are some of the worst drivers in the world. They seem to drive by their own set of rules; rules which don't involve paying attention to lane markings or right of way. They merge as eloquently as fans leaving a sporting event, and weave like they're all drunk. Perhaps it is the ill affects of so much coffee and baba.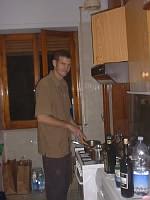 The domestic life
Naples, Italy (12Feb01)
I managed to land some work while I was there, designing a website for a doctor friend of Rose's. It was quite a novel concept making money again. Once the work was done, however, I ran out of excuses for sticking around, and finally bid goodbye to my home away from home. Supposedly, they still ask about me at Bellavia.
Olympia, Greece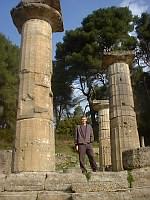 Ancient Olympia
Olympia, Greece (15Feb01)
Olympia's historical significance far exceeds its physical presence. Birthplace of the Olympic games and home to one of the most important sites of ancient Greece, the town itself was vastly understated, consisting of just a short section of shops and restaurants scattered along the main road. I stayed in the one youth hostel in town, along with Lee, a fellow American I met en route. I started the morning with my usual routine, taking a hot shower trying to wake up enough so that I would be motivated to go out. As I was drying myself off, I saw what looked like a giant plastic bag full of money hanging on the clothes hook. Closer inspection revelated it to be - a giant plastic bag full of money; about 50,000 drachma (about US$150.) I almost caused a riot amongst the staff of the hostel when I gave it to them, as they seemed shocked and confused by its appearance, but it eventaully made it to the original owner - a guest who thought they were being clever by carrying their money with them to the shower.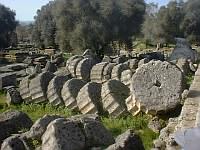 Toppled columns of Temple of Zeus
Olympia, Greece (15Feb01)
Lee and I, along with John, our roommate in the hostel, eventually ventured out to check out the ruins of ancient Olympia. Columns are endemic in Greek structures, and Olympia was no exception. Most of them, however, built in short sections to facilitate assembly, had collapsed into giant piles of marble slices, making the entire site look like a giant coin jar. The original field where the games were held was just that - a giant field, requiring a lot of imagination to picture what it must have been like back in 776 BC.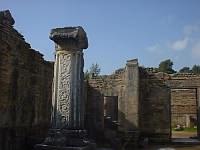 Olympia, Greece (15Feb01)
Visiting places like Greece really puts everything else in perspective; even the Roman ruins seemed contemporary in comparison. It will be hard to think of anything that is only a few hundred years old, like the oldest parts of the US, as anything but brand new.
Athens, Greece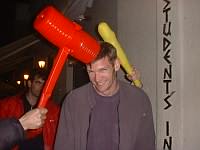 A strange tradition
Athens, Greece (18Feb01)
The moment I walked out of the Monastiraki metro station, I was confronted by a crazed mob of people wielding clubs, and they proceeded to beat me repeatedly over the head... with toy clubs, that is. As I looked around me, the streets were full of people and everyone had a giant, bright plastic club or mallet. It was like Halloween where everyone had dressed up like Fred Flintstone. As people walked by, they would hit each other on the head in turn, and then laugh and move on to the next victim. Once over my initial confusion, I asked one of my clubbers what was going on; it seemed that it was an old tradition associated with Lent, the forty days leading up to Easter. I really don't understand how running around in the streets beating each other with toy clubs in supposed to deepen one's Catholic faith, but not being a Catholic, I guess I'll never really understand.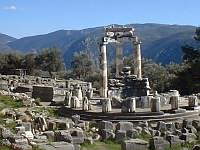 Tholos
Delphi, Greece (20Feb01)
Once I got to my hostel, I bought my own club, and sat on the steps in front with a group of students from Tufts, who were on break. We had a great time, talking, drinking, and bopping people on the head as they walked by. One of them came up with one of the most hilarious comments yet on my trip, "It's good to know that when I'm 33, I'll still be able to 'hang out'." Damn kids.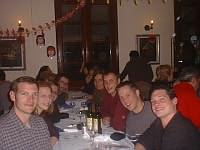 Friends in Athens
Athens, Greece (21Feb01)
Athens, although as historically significant as Rome, was a rather slimy place. I felt I had to always be on my guard to prevent people from cheating me. In one instance, a man came up to me, greeted me as if we were friends, and invited me for a drink. I was sure he was a man who had helped me out earlier in the day, but it soon became clear I was mistaken. We went to a bar and ordered a couple of brandies. Something felt very wrong. Once a beautiful woman sat next to me and started making conversation, I knew it was a scam. She asked me to buy her a drink, and before I could answer, the bartender had served her one. In under a minute, she asked for another, pretending that I had ordered it for her. It was time to leave. When I went to pay the bill for my one drink, they said, "20,000 Dr." (about US$60!) and proceeded to pull a menu out from behind the bar listing drinks at 5000 each. After I gave them my "you have to be joking" look, they loweved the ransom to 11,000. I pulled out 1200 Dr, a generous amount for one drink, placed it on the bar, and said, "That should more than cover it. If you don't like it, call the police" and stormed out. They didn't follow. The next couple of days I would entertain myself by following around my drinking "friend" on the street, warning potential victims of the scam before they got hooked.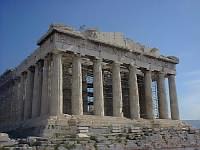 Parthenon
Acropolis, Athens, Greece (22Feb01)
Athens is full of interesting sites and museums, but I was nearing the end of my European rope; I really enjoyed my experiences in Europe, but I was really looking forward to Africa. I booked a flight to Cairo, and after spending my last night "hanging out" with my new friends from the hostel, sitting on a rock outcropping just outside the Acropolis, I walked onto the place and headed off on my third travel leg - Africa.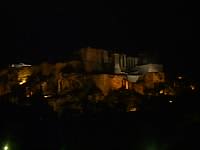 Acropolis at night
Athens, Greece (21Feb01)