When I go traveling, I usually start the trip with only a vague idea of where I'm going. I usually know where I'm starting, where I'm ending, and aproximately how much time I have, but that's about it. Everything in between I make up as I go. I often get advice from fellow travelers or locals as to where are good places to visit. One guideline I use is that whenever a lot of people tell me to avoid somewhere, it's usually an indication that it's a place worth checking out. Inevitably, the taboo places turn out to be the highlights. I went to Vietnam, when most Americans think of it as a place that no American should set food in again. I went to Indonesia while civil unrest and riots were dominating the front pages. I went to Irian Jaya after being told that it was best to avoid because of tribal disputes. I went to Kashmir, India, which continues to be a hotbed of unrest due to border disputes with Pakistan.
Each time I was pleasantly surprised by what I found - magical places where the people were incredibly friendly and inviting, and where I was one of only a few travelers lucky enough to be able to experience it.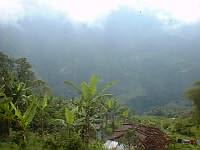 Colombia was no exception. I can think of few countries which evoke as much fear and words of precaution as Colombia. And with good reason. Ever since "The Violencia" in the 1940's, COlombia has been at war with itself. For generations, a violent rift has existed between the conservatives and the liberals. The hatred and violence has been passed down from one generation to the next. There have been attempts to move the conflicts into the political arena, but in doing so, splinter groups such as the FARC and the ELM have formed. These groups became more violent than ever, as they felt their voices weren't being heard in the political discussions. Colombia is also the #1 supplier of cocaine to the world, and the worlds of drug cartels and fracticious political/guerrilla groups soon became tied.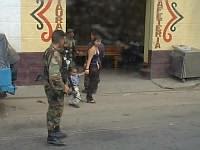 Today, guerrillas, primarily the FARC (Fuerzas Armadas Revolutionarias de Colombia) control large areas of the country. These guerrillas, "armed to the teeth" as the COlombian president described, use terrorist acts to maintain their power and protect their drug trade. The situation in 2000 has worsened. During the first four months of the year, an average of nine people a day were kidnapped. Many are children. The guerrillas use the ransom money to fund their efforts. Many of those kidnapped are killed.
The areas that seemed to be under guerrilla control changed almost daily. As a result, I was always asking where was safe, and I always seemed to get different answers. I felt like the "dentist" in the famous scene in "The Marathon Man," in which Dustin Hoffman is tortured by a man with a dentist's drill, being asked only, "Is it safe?" over and over. "Yes, yes, it's very safe," he would reply, but after realizing that the drilling hadn't stopped, changed his answer to "No. It's very dangerous. It's so dangerous you wouldn't believe it." I was told to stay away from the countryside, but that the cities were safe. I was then told to keep away from the cities. The North was safe but the South wasn't. The South was safe but the North wasn't.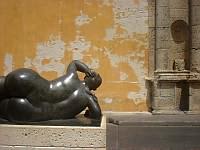 One thing that everyone seemed to agree on was that Cartegena was safe. Cartegena is an old colonial town on the North coast of Colombia. Now a popular tourist destination for Colombian tourists, the old walled city has hardly changed from colonial times, except for the fact that all the buildings are now filled with upscale shops. Not being a rich Colombian tourist, I stayed in the "bad" part of town, where the rest of the foreigners stayed. I stayed in a place called "Casa Vienna," ground zero for the backpacker crowd in Cartegena. I shared a double with Jim, one of my frinds from The Voyager in Panamà. We took a flight direct to Cartegena from Panamà City, only a one hour flight. When we arrived at the airport in Panamà City, we were told we needed a ticket out of Colombia in order to be able to board. Apparently the airline was required to have proof that you're going to leave the country. Why, when hordes of people are fleeing the country, they're afraid that a couple of tourists might stay, I have no idea. All I know is I had to cough up US$160 for a ticket back to Panamà that I had no intention of using. The first order of business in Cartegena was getting a refund for the unused ticket.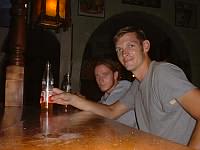 We apparently arrived in the off season, since the town was dead. We tried desperately to seek out any form of nightlife in the walled city, but after having to pay US$3 for a weak drink in an empty bar, we retreated to a local hangout, the Cuatro Vientos (Four Winds.) The Cuatro Vientos soon becaume our second home, and it was also where I ran into an Argentinian cyclist, who had traveled all over South America. With his help, I managed to work out the route for most of the rest of my trip.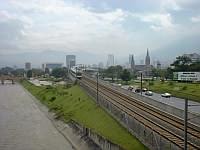 The next stop on the tourist track for Colombia would have been Santa Marta, further along the coast, but I wanted to see the mountains, not hang out on the beach, so off I went to Medelĺn, right in the center of Colombia. By this point, I had decided that if I stuck to the Pan American Highway and only rode during daylight hours, I would be fine. The advice from the Argentinian confirmed this. In order to avoid the "dangerous" buses, I flew to Medelĺn. "Dangerous" was a tricky word, becaues it was hard to tell if someone was warning me of the genuine danger of being kidnapped, or of the "danger" of getting robbed, as in "We'd better not let this wet-behind-the-ears gringo onto a public bus. He might get robbed." It's as if they think I'm so clueless that I'd lose my wallet if it weren't pinned to my shirt.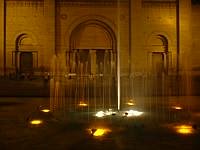 Medelĺn was a lively, metropolitan city, with people milling around the center of town, even at night. As I wandered around town, what I found were a people very kind, helpful, and curious. They were far removed from the world of guerrillas, drug trafficing, and kidnappings. One shop owner (where I went to sample ice cream, of course) offered me a free bowl of mazamoras, a COlombian specialty consisting of corn in milk.
The people I encountered on the road were equally welcoming. Nearly every car that passed me gave me a "thumbs up." People would pull alongside me and drive or ride at my side for kilometers. Everyone was curious where I was from, what I was doing, and where I was heading.
The riding was amazing, with perfect weather, great roads, and breathtaking scenery. The road south from Medelĺn followed a ridgetop, so there were stunning views into deep valleys on both sides. The plant life was very tropical, with palms, bananas, and ferns. And scattered amongst the palms were small houses, their brick red color in shar contrast to the lush green.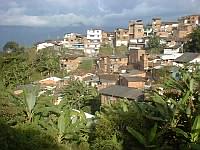 A thin fog gently drifted through the valleys, creating a perfect climate for biking. At times it was almost spooky, as the sides of the valley would drop off into the depth of the fog. The roads were perfect. Unlike in any previous country of my journey, bicycling was a national passion, second only to football (soccer.) It was an quite unexpected sight to see a pack of bicyclists, all decked out in matching, obnoxiously bright biking clothes, go whizzing by. Consequentially, the roads were velvety pavement, free of the dirt, rocks potholes, cracks and gravel that greeted me everywhere else.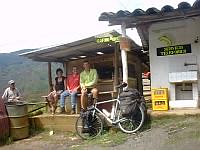 It all added up to the best biking conditions I'd encountered during my whole trip. My first day started with a challenging but tolerable 30km climb. At the top, I found a small restaurant, and once again I found myself chatting away. Before I knew it, an hour had passed, and it was time to get rolling. The early climbing had taken a lot of time, but only 4km after my lunch stop, I hit one of the most delicious downhills I've ridden - kilometer after kilometer of screaming downhill on tight mountain roads, with palm trees, quaint houses, and stunning views flying by me at breakneck speed.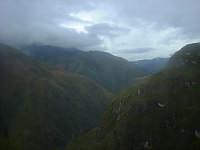 The next day was a bit slower, with me sleeping in longer than I had planned, and my bike suffering from two flats and a broken spoke. But soon I was back in the groove. I made a route change that day. According to the locals in Pintara, the previous town, the next section of road had guerrilla activity, so I took an alternate route through a town called Manizàles. The route was safe I was told, but "Be very careful in the tunnel." I never thought to ask what I should be careful of, so as I approached the tunnel, fear set in. I didn't fancy being attacked in a dark tunnel, so I pulled out my headlamp. The plan was to folow a truck through the tunnel. A big truck was a much more difficult target than a tiny bike. As I entered into the tunnel, I was plunged into pitch darkness. The only thing I could see were distant tailights pulling away from me. I hadn't charged my batteries in a while, so the weak light emanating from my headlamp did little good. SUddenly I found myself in total darkness. I rode as fast as I could, my heart pumping madly. Then I heard a "click."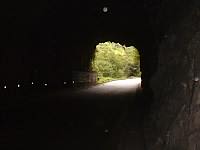 It was the sound of my sunglasses, which had been tucked into my shirt, hitting the pavement. I kept riding. I was not about to start rummaging around in a pitch dark, "dangerous" tunnel looking for sunglasses, even if they were the eight pair of glasses lost during the trip. What was one more pair. Moments later I saw the light at the end of the tunnel, as it were, and I stopped. I saw that there was nothing but an empty tunnel. No packs of robbers or guerrillas awaiting my arrival. I turned back, and in the dim light oftmy lamp, recovered my glasses. Unfortunately, they would be lost for good before the day was through.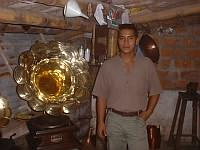 The following day, the weather took a turn for the worse, and I found myself riding in the rain. While riding along a sparsely populated roadd, something caught my eye. It was a Victrola. Upon closer inspection, it was actually a downsized replica of a Victrola, but it still played records. They were all made by hand by a man named Alex, whose shop was only a few feet from the road. He offered to show me an "original," and it instantly appealed to my sense of the absurd. A bohemoth of bronze and wood, it was the perfect souvenir of Colombia - an American record player made at the turn of the century, rebuilt by hand in Colombia. It perfectly met my criteria for souvenirs - it was large, unusual, and extremely difficult to transport. It would look great alongside my hand carved bar from India, which my then-girlfriend and I lugged halfway across the country before being taken home on the plane. The victrola, however, was not going to join me on my bike tour - it would have to be shipped. Unfortunately, it was a holiday, so I accepted Alex's offer to spend the night at his place, and then go to the next town to ship it in the morning. I spent the night sleeping in the same room with Alex, his wife, brother, mother, and grandmother.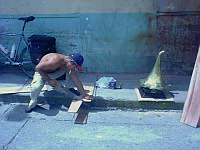 The next morning Alex, his brother, and I went to Santa Rosa to find a shipping company. After lugging the Victrola back and forth across town, which was a spectacle all by itself, we eventually found one. Unfortunatley, they required that the Victrola be packed in a crate. Alex immediately went to work, procuring two 10ft planks of wood, along with nails, a hammer,and a saw. In the middle of the sidewalk, we constructed an enormous crate. Back to the shipping company we went, but when we weighed in, the 13kg Victrola tipped the scales at 35kg. The wood weighed more than the goods. Back we went, this time to construct two crates, using only slats of wood as a framework. The work paid off. The two crates totalled only 25kg. I just wonder what the customs officials in the US though about two crates arriving from Colombia.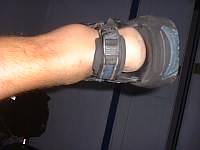 My morning expedition had turned into an all day affair, so I decided to sleep in Santa Rosa. I was the only guest in the entire hotel, and the caretaker invited me to watch the US/Mexico soccer game. I spent the rest of the evening watching soccer on a 4" black and white TV with bad reception, while nursing my swollen ankles, which had been bitten half to death by flies at Alex's.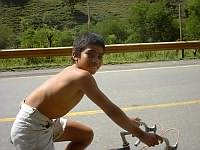 The next two days of riding were mellow, riding in the rain past flat fields of corn. Every few hours, I would have to pass through a police checkpoint - or at least I thought they were police. It was hard to tell who were police, who were paramilitaries, and who were guerrillas. All of them were well armed, and all let me pass without question.
I arrived in Cali, my final Colombian biking destination, in the middle of a storm, and I quickly became lost. A gentleman in a scooter, however, thoughtfully led me right to the door of a hostal called "Calidad House."
The Calidad House was full of Brits who all had spent far too long living in the hostal. They stayed up till all hours of the night drinking beer, cracking crude jokes,and talking about British football. After returning from my walking tour of the town, they invited me to join them for a night on the town. We hit a club called The Forum, and spent a bit too long drinking beers and dancing.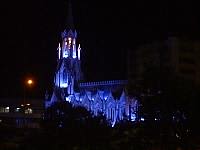 The next morning, as I prepared to head off for a day of sightseeing, I noticed my wallet was gone. It has been in my pants pocket when we went out, but no more. I assumed that this slimy guy who kept coming up to me in the bar had lifted it from my pocket.
I was prepared for such a calamity, however, and I immediately went into damage control mode. I had a plan all worked out - cancel my credit and ATM cards, call the bank to activate my backup ATM card, arrange automatic payments for my backup credit card. The lost driver's license was a problem that would wait for my return to the States. I spent the rest of the day taking care of business - talking on the phone to various banks, searching on the net for phone numbers I needed - I even bought a new wallet. By evening, everything was back to normal.
When I returned to the Calidad House, I started repair work on one of the Brits' bikes that I had promised to overhaul. He had just bought it for US$75 and it was a wreck. Not only that, but a fat German tourist in the hostal had managed to potato chip the front wheel during the day, so I had to rebuild the entire wheel from scratch. I was doing repairs until 2am, all the while being fed some foul licorice flavoured liquor by one of the guests.
I was up early to catch a bus to the border, and as I repacked all of y bags, I found my wallet, just as I had apparently left it. There are many things one can prepare for on a long trip, but there is no protection from one's own stupidity.