We were somewhere between Alta Gracia and San Carlos in the middle of Lake Nicaragua when the drugs began to take hold. It was going to be a ten hour, all night boat ride, and I wanted to be sure I got some sleep. As had become my usual routine for long, uncomfortable, overnight journeys, I popped a couple of sleeping pills and put in my earplugs. The water had already saturated the deck, and a large pool was forming in the tiny territory that I had been diligently protecting since first boarding. Fortunately, I was prepared, and I pulled out my waterproof bivy and mattress pad to create a dry oasis for myself. I slowly drifted off to sleep.
The boat ride to San Carlos was the first leg of my long journey to Panamá. Having decided that Costa Rica was too expensive and touristy and that Panamá was too flat and Western, I decided to get to Panamá City as quickly as possible. The sights of the city itself had no appeal, but I wanted to see the canal and get some quality parts to renew my ailing bike.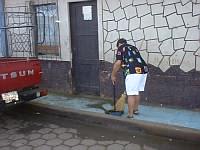 We arrived in San Carlos at dawn. "We" consisted of myself along with Andrew, Jackie, and Marc, travelers I had met on the boat. From the moment our feet touched solid ground, we wanted to leave. San Carlos was in the middle of a plague of small, green flies, and they were so thick in the air that it was hard to keep your eyes open without one flying in. Swarms of flies dripped off the eaves of roofs, and dead flies covered the ground like green soil. Each breath drew in several of the beasts, and saturated flies started to collect in my eyelids. The locals took it all in stride, patiently sweeping the dead into piles. We were not quite so patient, and quickly looked for the first boat out of town. Since it didn't leave for another three hours, we decided to splurge and hire a private boat to take us on a tour down Rio San Juan. The river in the early morning was quiet and still, and we were treated to an amazing show of cranes, pelicans, monkeys, and turtles. Marc, fresh from working in a cloudforest in Costa Rica, had perfected his monkey grunts, and had them serenading us in no time.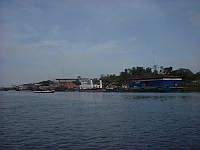 San Carlos, a border town, is the gateway to Rio Frio. To get into Costa Rica, one only has to take a boat downstream to Los Chiles. We were the first in line at the immigration office when it opened, but it didn't do us much good, since we ahd to wait over an hour for the boat to arrive. Even after arriving, we still had to sit in the boat swatting flies for another hour. Just as we were finally ready to embark, an immigration officer boarded the boat. He took great interest in my bike. For some reason, he thought that then was the right time to check papers, rather than when I had inquired about it two hours earlier. He stared at my paperwork for ten minutes, and then left. Ten minutes later, he was back. He wanted my bike's papers before he would let me leave. So, while the entire boat of 30 peple waited, I got off the boat and handed the paperwork to a kid to run into town and get a photocopy. When he returned empty handed, I had them run it through a fax machine to make me a copy. I wasn't about to leave without any documentation, in case we ran into trouble downriver.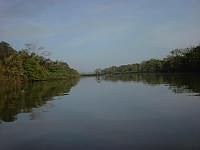 The border crossing into Costa Rica was spectacular. I can think of no better way to enter a country than to float gently downstream in a riverboat, surrounded by jungle teeming with birds, monkeys, and various other wildlife. But the appeal of Costa Rica would soon end. I was on a mission to get to Panamá City, and the rolling hills, lush jungle, and overpriced ecotourism destinations would pass by in the blink of an eye. In five hours I was in San José, the capital and transit hub of Costa Rica. I had hoped to immediately catch a direct bus to Panamá, but I and my disassembled bike were left standing alone on the curb; the bus was full.
The next morning I caught a bus to the border town of Paso Canoas, and soon I found myself standing on Panamanian soil. The next bus to Panamá City would have left me in the Panamá bus station at 2am, so I decided to take a red-eye. I had about nine hours to kill, so I tagged along with a few fellow travelers (Hi Cathal, Caoimhe, and Caroline) to the town of David.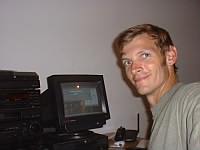 David seemed like a nice place to kill a bunch of time, so I rode around town looking for an internet cafe - spending so much time on Ometepe had left me email deprived. David was a modern town, but it wasn't a tourist town, so internet access was hard to come by. At one point a woman asked me what I was looking for, and she led me to a local technical college which provided access. The woman was very friendly, and even offered to let me stay at her house - she and her husband had hosted many cyclists. Unfortunately, I had already bought my ticket for a midnight bus, so I politely declined. Finding the college closed, I said goodbye to the woman and I continued my search. As I was riding, a man pulled over and asked me what I was looking for. He offered to let me use the computer at his house. He and his wife had hosted a lot of cyclists, he said, and I was welcome to stay for a few hours while I waited for my bus. It turns out that I had run into the woman's husband! His name was Bienvenidos Caballero, which translates to "Welcome Sir." It seemed like a joke name, but, as with any unusual name, you don't really want to ask, "Is that your real name?" Bienvenidos was certainly welcoming. He led me to his house, showed me the computer, told me to make myself at home, gave me house keys, then immediately left to return to work, leaving me along in his house. Later that evening, he and his wife took me out to dinner. They were biking enthusiasts and loved supporting bike travelers. They were a perfect example of the amazing people you can meet if you just take a little risk. Sure, every once in a while you meet someone up to no good, but it is a risk well worth taking.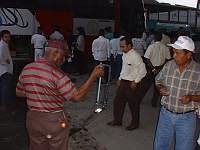 I woke up as the bus pulled into the Panamá City bus station. The bus had arrived at around 5am, so I spent an hour or so in the bus terminal waiting for sunrise. The activity in the station was quite a spectacle. A stream of buses pulling in, another stream leaving, and hundreds of people running from one bus to the next. Every bus station has vendors who frantically try to sell their goods in the 30 seconds when the bus is stopped. People sell the strangest things - razors, sewing kits, ceramic angels. In the Panamá station an old man was trying to sell pens and a hacksaw. You would think he would have better luck at a penitentiary.
The timing of my arrival couldn't have been worse. I had arrived in Panamá City just in time for the most important part of Semana Santa - Good Friday through Easter. That would be great news if I were in Antigua, where there were processions and festivals in store, but I was in Panamá City. Being in Panamá City during Semana Santa was like being in a pumpkin patch for New Years - there was nothing going on. No people, no festivals, no shops open, no public services. Seeing as I went to Panamá to take care of logistics like fixing my bike, it was not good news.
I actually arrived on Thursday, so I figured I had one day to get my business taken care of before everything came to a grinding halt. The first order of business was to recover the goods I had sent from Mexico. I found the Post Office soon enough, but they had no luck locating my package - not under Birch, not under Peter, not under Raymond. Nothing. After talking with three clerks, they finally determined that it could be in a separate office, but they wouldn't be open until Monday, four days later. I didn't really have plans to stick around that long, and I was just about willing to just write the whole package off. Those hiking boots were too heavy to carry anyway.
The rest of the day was more productive. I found a bike shop, and as soon as I walked in the door, my eyes lit up lilke a kid in a candy shop. Helmets and hubs, tires and tools, patch kits and pedals. US$300 and two hours later, I walked out with an almost new bike - rebuilt hubs, a new tire, helmet, cleats, patches, a cycle computer, and chain lube. They even washed my bike for me.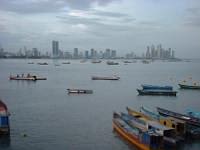 I stayed in a hostel called the Voyager, run by a nice man named Abdiel. The Voyager was a traveler's hostel, and had everything a budget traveler could want - a kitchen, TV, free internet access, laundry, even free breakfast. Even though it was in Panamá, the Voyager was really in a different world - a traveler's world. Indistinguishable from a backpackers in New Zealand, a hostel in Europe, or a hotel in Thailand, it was a place where travelers from all over the world came to meet and share the travel experience.
It was where I met people like George and Laila, a Brit and a Norweigan who met in Australia three years earlier and who have been traveling the world ever since. Or Jim, another Brit, who has been wandering the globe for almost five years. There was Luis from Argentina, a woman from Equador, a couple from Germany, a Swede, an Aussie named Lisa, and a host of others, all there to experience the world, all trying to figure out how to delay having to go home.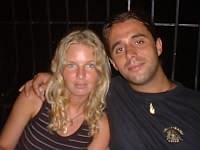 It was easy to get caught up in the traveler's world. No need to speak Spanish, no need to be pounding the pavement with my bike, no need to cram into a local bus. I quickly found myself immersed. We would all sit around the table and drink, tell stoires, and smoke (except those of us saving our lungs for biking.) With a preponderace of Brits, the conversation shifted to the minutia of life in England. Half a world away and everyone was arguing about which pub in some tiny town in England was best.
Even if I wanted to leave, I couldn't. The south of Panamá, an area known as Darién, is the one place where there is no Pan American Highway. No road leads from Panamá to Colombia. And since the following day was Good Friday, all of the travel agencies, through which I could arrange a boat or plane out of town, wouldn't be open until Monday. I wasn't going anywhere. I figured I might as well make myself comfortable. I headed out to the store to buy some groceries, a new concept for me on this trip. Jim also wanted a liter of milk. No problem - the store was a long walk, but it wouldn't take me more than half an hour.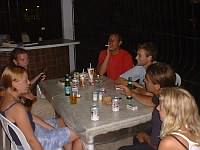 Half a block from the hostel, a truck pulled over and asked me where I was going. Normally, I would ignore such an inquiry and keep on walking, but this particular truck contained two gorgeous Panamanian women. When I told them I was going to the store, they immediately offered to drive me. I know, our mothers alays told us to never take a ride from strangers. But that was when I was a kid, when a truckful of gorgeous women would have no appeal. Anyway, I was on an adventure journey, and this reeked of adventure. I weighed the risks and benefits, and soon we were whizzing down the road to the store. As we pulled into the parking lot, one of the women slyly asked, "Do you have a driver's license?" "Yes," I answered hesitantly, realizing that my answer as leading me down a slippery slope to a great unknown. "We wanted to go to the beach, but we need someone to drive. We don't have licenses, and there are a lot of police out today." I smelt big trouble ahead, but there was no turning back. "Alright, let's go" I said confidently. "But first, we're going to need some food." Fifteen minutes later we were well stocked with chips, soda, cookies, and fruit, and winding our way through town. The beach was "about an hour" away, but I was only going to sit around the hostel anyway, so I had time to kill. The truck was an old Suburban, and its handling made my old '67 Valiant seem like a sports car. The whole steerig column moved up and down as I frantically spun the wheel, awaiting a response from the beast. Soon we were lumbering over the majestic Bridge of the Americas, heading to lands unknown.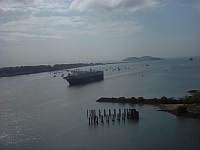 The roads were indeed flush with police, on watch for drunken holiday traffic, so I was thankful when Yoconda, on of the women, chucked the half full beer can out the window that had been sitting in the front seat from before I arrived. I normally would be appalled at the complete disrespect of the environment Central Americans showed by chucking their trash out the window, but I made an exception this time. As I carefully used the steering wheel to send suggestions to the beast to stay in our lane, a combination of American rock music and static blared out of the radio.
Yocanda and Michele, the other woman, were having a great time singing along. Their boyfriends were apparently at work or at home, and they were out to take the world by storm. They were Thelma and Louise, with their chauffer Peter tagging at the wheel.
An hour and a half later, we were still sailing down the highway. "Where are we going, anyway," I asked. "I told you it was a little far," Yocanda replied. "We may not have enough gas. I wonder if this takes unleaded or diesel." I started to ask, "Just who's truck is..." Never mind. Better not to know. I could always play the ignorant tourist when we got pulled over for driving a stolen vehicle. Anyway, they wouldn't lock up an American, would they? We built this country, dammit!
Finally, after almost two hours, I was instructed to take a turnoff. Thus began the long, winding drive into the mountains. Aren't the beaches at sea level? Everytime we drove by someone walking, one of the women would stick their heads out the window and scream some innane thing. Seeing as I despised it whenever anyone would do that to me, I took advantage of my position of power and rolled up the windows. They would then roll them down. We repeated this game for the next 45 minutes, until we finally arrived. Arrived, that is, at "El Valle," a beautiful, mountainous rainforest. It wasn't a beach, but by this point, I wasn't asking questions. I was on the bus, wherever it took me.
I was then instructed to stop at a small pullout, which serviced a small stone stairway leading to a jungle enshrouded waterfall. I merrily hopped along the wet, slippery rocks in my Tevas as Yocanda and Michelle awkwardly clamored down in their 4" high glamour shoes. We got to the falls, and it was photo time. The girls stripped down to their skimpy bikinis and had me take their photos as they seductively posed in front of the falls! Where was my camera when I needed it. (Rule #1 of travel photography - never leave your camera behind, even if you are only heading to the store for milk. You never know what is going to happen.)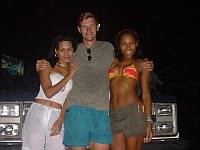 We then proceeded to each tourist spot, stopping just long enough for them to pose for photos - in front of flowers, in front of pools, anywhere picturesque. We then headed back to the highway and, of course, on to the beach. It was starting to get dark, and it was cold and overcast, so our two beach stops lasted just long enough for the obligatory modeling shots. People were starting to give us funny looks.
By 6:00, we headed back. We got back into town around 8:30, a full eight hours after I had left. I casually walked into the hostel and put Jim's milk in the fridge. "Sorry I took so long. A funny thing happened to me on the way to the store."
After a day of walking around town in the rain, eating McFlurries and oogling in camera stores, I finally decided it was time to check out the canal.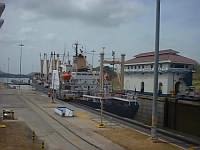 Even in this day, the Panamá Canal is an engineering marval. Over 40 miles long, it consists of three sets of locks, where ships rise or fall up to 26 ft. at a time, as they pass from one ocean to the next. The locks are fed by a large lake, which is in turn fed by rivers. A single ship's passage can use millions of gallons of water.
After failing in my attempt to catch a ride on a boat through the canal, I went for the next best option; I biked alongside. I arrived at the first set of locks from the Pacific side, Miraflores Locks, just as two ships from opposite directions were approaching. The process is simple enough - the ship pulls in, aided by small trains running along either side of the canal, the lock closes, then the water is either pumped in or drained out, depending on the direction (The Atlantic is higher than the Pacific.) Once at the level of the next stage, the opposite doors open and the ship continues. The whole process takes about half an hour per stage. Miraflores Locks has two stages, and the more spectacular Gatún Locks have three. It sounds straightforward, but there is nothing quite like watching a giant freighter squeeze into the relatively tiny lock, then start falling before your very eyes.
After my first locks experience, I started heading towards the other end of the canal. My map showed a small road which ran alongside the canal. Before long, however, I found myself lost in a maze of muddy dirt trails which seemed to head nowhere. Unbeknownst to me, the "road" I was looking for on the map was actually an old abandoned railroad.
One dirt trail led into a national park. I figured it would take me to the other side in a fairly direct manner, so I followed it. I had to pass through a locked gate to enter. The road was all sticky, clay-like mud, and my rear tire fishtailed continuously, desperately trying to gain traction. The trail cut right through thick primary rainforest, and the cacophony of sounds of insects and birds was deafening. It was a fun ride, even if it wasn't the most direct route. It certainly wouldn't be a good place to break down.
After an hour of riding, my rear tire exploded. I had brought all my tools, but in all the swapping of tools from one bag to another, I had forgotten my pump. I was screwed. I was at least an hour from anywhere, from anyone. I figured I had gone more than halfway, so I started walking in the same direction I had been riding. Not five minutes later, I came upon a young woman walking through the forest. She was a researcher from the States, working in Panamá for the Smithsonian to study birds. "Do you want a ride?" she asked. She and another young female researcher had a truck just a few minutes away. I gratiously accepted, and threw my steed in back. We headed out the way I had come; the direction in which I had been walking would have dead-ended in another 10km.
They took me all the way back to their apartment, where they lent me a pump and gave me more water. It was my lucky day. A quick patch job and I was on the road again, heading towards the northern end of the canal (the canal runs North-South.) It started to absolutely pour with rain, and I found myself drowning from the downpour. But I was determined. It wasn't until I finally came upon a sign to Colón, the Atlantic gateway, that I started to doubt the sanity of my quest. I had already ridden the 70km I thought I would need for the whole journey, but the sign indicated that I had 50 more to go. Getting to Gatún locks would be another 20. And they would close for viewing in an hour. I turned back.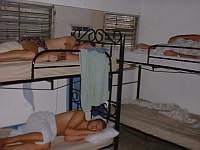 I decided to try a different route back, the "Autopista," which turned out to be a pay superhighway. When I got to the toll booth, they said I couldn't enter. When I asked why, they said, "Well, alright, but you'll have to pay." I had to pay US$2.50 just to use the road, the same as a car!
After a long 130km, I sloshed my way back to the hostel for a nice hot shower, and reentered my fantasy travel world of internet, beer, ice cream, and talk about British TV theme songs.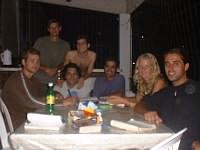 It took me until Wednesday to finally get a flight out of town. I was trying to avoid air travel, prefering to travel by land and sea the whole way, but I was willing to do anything to get moving. I was already starting to get soft. I had settled all too easily into our little Voyager community. If I wasn't careful, I could find myself there indefinitely, helping out around the hostel to pay for my lodging. I had already earned my stay for one night by repairing both of the toasters at the Voyager, after getting tired of trying to butter soft, cold bread. The traveler's world was addictive, but it wasn't how I wanted to spend the rest of my life. Colombia was calling.
After a grueling three hours at the Post Office extracting my package from the Panamanian postal bureaucracy, I headed off to the airport, my bike neatly boxed up ready for the journey.