Originally, I was only going to hitch a ride to Baja with Guy and Marc, but when I heard about the kayak trip, I changed my mind - four days and three nights, just us, our kayaks, and the sea lions. We get dropped off on one end of the island on Monday, and we get picked up at the other end four days later. We have to pack in and pack out everything, and I do mean everything (human waste comes home in small, per-use paper bags, with a little kitty litter thrown in for fun.) This was going to be a great opportunity to connect with nature. I was *in*.
Luckily, through creative embellishment of how much preparation I still had left to do before my odyssey, I managed to defer much, if not all the preparations to Trina, Guy, and Marc. My contribution involved making a two minute phone call to Lynn, the woman who ran the kayak rentals, to say we needed one more.
We were joined in La Paz by a friend of Marc's, also Mark (whom I promptly dubbed "k", short for "Mark with a 'k'" to avoid confusion.) The addition of Mark, capable of running marathons blindfolded, backwards, with both feet tied behind his back, ensured the preponderance of testosterone for the trip, if is was in any doubt before.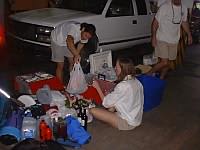 The final packing was an exercize in volume assessment - would it, or would it not fit through the small hatches on the kayaks. For better or worse, we had five kayaks, which afforded us a lot of space, as long as it could be squeezed through the opening. Somehow, somewhere, someone determined that bringing a half empty (or is that half full) bottle of vodka was an abuse of cargo space, and it was decided that we should pre-mix it with our can of pineapple juice. A decision we would live to regret. In the end, we brought just about everything, hoping that when we were left on the beach to pack the kayaks, we wouldn't be faced with a disaster of overpacking.
The island we went to was called "Isla Espiritu Santo," just off the coast of La Paz. It is perhaps 10km by 4km, with sandstone cliffs and numerous small bays. There's no development and little else living there except a bunch of cacti. We were dropped off on the far side, with the intent of paddling our way to the other end, over several days.
When we arrived, there were already a couple of zodiacs (small boats) on the beach. One person came over and told us, "I just want to let you know that the passengers from our boat will be arriving in an hour or so." "How many?" I asked. "70 passengers." Off in the distance I notice a large cruise ship, poised, ready to launch its attack on our private wilderness; hordes of tourists in search of a quaint beach they can visit for dinner, then return to the comfort of their state rooms. "We'll be having a BBQ in that small cove at 5:00. We hope we aren't disturbing your privacy." Without missing a beat, Mark replies, "Are we invited?" To all of our surprise, they agreed.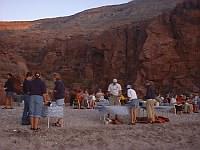 We set up camp, then headed out for a few hour paddle. By the time we returned, the tourists had already made a hasty retreat back to the mothership to freshen up for dinner. Once the BBQ began, we sent Mark out for surveillance to see if our invitation was for real. When he didn't return, we figured that he was either fully engaged in the festivities, or else he had been abducted and taken back to the ship as a specimen. We assumed the former, and soon followed. We found Mark, beer in hand, being served hand and foot. We were surrounded by coolers of cold beer, red and white wine, BBQ ribs, butterscotch brownies, salad, and - get this - fresh grilled ahi tuna!
Moments after setting foot on the beach, we were offered drinks by the friendly, and mostly young, attractive, female crew. We had hit the jackpot. The whole thing I was saying about connecting with nature, blah, blah, blah, well, forget it. We quickly made a new plan - drink free beer and eat like pigs. The paying guests, mostly older folks, were content to sit and watch some actual kayakers in their native habitat. I started flirting with one of the crew members, while stuffing my face with luscious ribs and mouthwatering brownies. The piece d'resistance? - after dinner (after cleaning our hands on the provided handi-wipes, of course) we were handed hot coco with peppermint schnapps. Canned asparagus, what were we thinking? Actually, the poor canned asparagus became the butt of many a joke that evening and, while undeserved at the time, was soon more than justified given how incredibly nasty the asparagus turned out to be.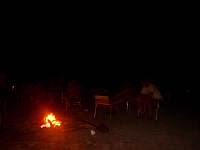 We were then treated to a campfire, where we toasted marshmellows and made s'mores. Once the paying guests had retired to the ship, we got to share the fire alone with our fabulous and attractive crew. Realizing that there was no chance of making sufficient progress with my flirting in the hour before the crew had to leave, I focussed my efforts on consuming as much free beer and chocolate as possible. Alas, at 8:30, the last zodiac arrived to take our new friends back to the ship, in time for them to set sail to Cabo San Lucas. Suddenly we were alone, left with the campfire and a few remnants of Hershey's bars that I had managed to squirrel away. (A big thank you to the crew and passengers of the Sea Fire (? - sister ship of the Sea Lion) We love you!
We wondered when the next ship would arrive. We figured we could live for months like this, sponging off of one cruise ship after another. After realizing the impracticality of this, we reverted to our original plan: being alone in nature and eating mushy canned asparagus.
With no crew to pamper us, we resigned ourselves to laying our sleeping bags on the sand, listening to the waves lapping against the shore, and watching the stars. I went to sleep, cosily wrapped up in my bivy sack.
I was rudely awakened by Marc screaming, followed by what seemed like endless conversation about the newly discovered wildlive - a small, cat-like animal with a striped tail. "It was *this* close to my face", Marc said, jesturing with his hands. Just as the commotion had died down and I had gone back to sleep, I was awoken again, this time by the other Mark screaming, this time for no other reason than some BBQ rib and beer induced nightmare he was having.
The next morning, we prepared ourselves for a day trip to the sea lion rookery. I was the first to need to heed the call of nature, and so off I went, trowel and paper bag in hand. I returned shortly thereafter, carrying a smiling Foster's Freeze bag (Guy, Marc, and I, aware of the shortage of paper bags in the pre-trip shopping preparations, saved our bags from the roadtrip down.)
Soon, we were off, paddling straight into fierce headwinds and waves. We battled our way to one island, but Trina and Guy decided to turn around, rather than be battered further. Mark and Marc headed on, and I, not sure of what was going on because I was too busy trying to balance $3000 worth of camera gear on my kayak, paddled back to Trina to see if they wanted an escort. After being told they were fine, I handed them a bilge pump and turned back to try and catch the Marks.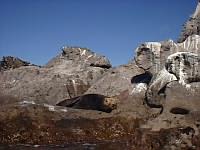 The rookery was a long way away, but I finally made it and was rewarded by a wind protected eddy, full of playful seals. The paddle back was treacherous, as my camera bag, being securely anchored but not stationary, would rapidly shift to one side or the other at the slightest chance in roll of the kayak. This would cause a significant shift in balance, almost causing me to capsize.
We returned to camp to find Guy and Trina exhausted from a torturous return trip. Apparently, Guy couldn't move his feet back far enough to get to the controls of the rudder, and as a result he capsized often. He and Trina then tried to get Guy back into the kayak. Luckily, at least I had given them a bilge pump. Guy and I switched kayaks after that.
That evening, we camped on the same beach. Two days, and we had only managed to move 25m down the beach. We cooked our dinner (where was our crew!?!) and watched the stars and satellites again, arguing which was the seventh of the "Seven Sisters." Marc and Mark are both aerospace engineers, and watching satellites with aero types takes some of the magic out of it all: "That one is ona blah-blah orbit,..."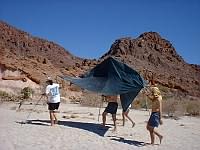 The next day we cranked, covering a majority of the distance to the pick up spot. At lunch, we stopped on a nice beach. Being that there was no vegetation, we were faced with the baking heat of the midday sun. Luckily, we had a shade structure. Unfortunately, not having anything but sand to anchor into and having few plants to tie to, we were always forced to jury-rig something, using large rocks and cacti. The strong gusts would usually make short order of our work.
We did some snorkeling after lunch, during which time I managed to take a huge chunk out of my foot walking into the water. It was turning out to be a bad trip for feet.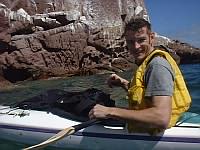 With gentle winds at our backs, the afternoon was a cruise. We started playing a spelling game, where each person added a letter until the loser was forced to complete a word. We added a kayaking twist, allowing change in order by jockying the relative positions of our kayaks. The game quickly ended once we realized that our new twist was encouraging us to paddle fast and furiously in the wrong direction. Waterfights ensued, and Mark payed dearly for underestimating the effectiveness and range of a bilge pump fueled by the open sea.
Our last day found us at the pickup spot ahead of time. As we unpacked our kayaks, we noticed the large amount of tequila and vodka left. Not wanting to have carried them in vain, we quickly polished off the tequila. This was to be a critical mistake. Our tastebuds deadened and our judgement impaired, we decided to move on to the vodka/pineapple concoction, which had been festering in a hot kayak for three days. We figured that the alcohol would keep the pineapple juice from going bad. It didn't. The best description would be sauerkraut juice, but what ever it was, it was evil. Unfortunately, the tequila had rendered us powerless to resist its control. Most of it had gone by the time Mark had the good sense to dump the rest.
We loaded the return boat, which had since arrived, defeated but happy. Our trip had been a tremendous success!