I needed to be on a bus by 8:00 am. That was as late as I could leave Cali and still make it to Pastio, in the South of Colombia, before sunset. It was the stretch from Popayán to Pastio where the danger was, so I was told. Danger, that is, only of having the whole bus held up, not danger of guerrillas. As long as I didn't travel at night, I would be fine.
I made it to the bus station in time to catch the 8:30 bus. I was hoping that the thiefs weren't on an exact schedule. The bus was bound for Ipiales, on the Colombian/Ecuadorian border. From there, I would take another bus to Quito, the capital of Ecuador and the starting point for my Ecuadorian biking leg.
Few locals actually wanted to travel past Pastio, so those of us bound for the border had to switch to a mini-van for the last leg to Ipiales. Night had fallen, as had a shroud of fog, but neither deterred our driver from barrelling along at full bore, winding up and down the mountainous roads. At one point I heard a thunk, and as I looked back, I could see my bike panniers disappearing into the darkness. They had fallen out of the back of the van and onto the middle of the road. Once I had alerted the driver, we came to an abrupt halt, and I ran back to find them, hoping that I would find them before an oncoming truck did. I did, and soon we were back on the road to Ipiales.
I had no intention of staying at the border, and I immediately sought out transportation to Tulán, the border town on the Ecuadorian side. After being told by a taxi driver that he would take me the whole way to the bus station in Tulán, I instead found myself only 1km down the road at the border, where the cab was not allowed to pass. I wasn't in the mood to be misled by another taxi driver on the Ecuadorian side, so I reassembled my bike and prepared to travel the rest of the way by bike. It turned out to be an 8km uphill journey in pitch darkness, but I felt that I was safely out of guerrilla territory. Besides, the fresh air and excercise were helping my still phlegm-clogged lungs.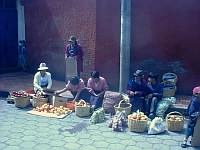 By the time I finally reached Tulán, weary from the biking and busing from Cali, I decided I couldn't face yet another bus ride that night, so I spent the night there, in a hotel right next to the bus station. I was expecting a typical, grimy local hotel, but instead I had apparently landed myself in some sort of love hotel, and I was serenaded to sleep by the creaks and moans of couples from all sides.
The morning bus to Quito left me both anxious and relieved. The spectacular sharp green peaks and valleys left me wishing I could enjoy it all by bike, but each tiem we hit a long climb, I sat back and relaxed, thankful that I wasn't having to pedal myself up.
Quito was a spectacular town, built on a dramatic set of hills and valleys. In many ways, it reminded me of San Francisco. I stayed in the old town, an area of the city that, thanks to local zoning, was free of the neon signs and western shops that were plentiful in the new area of town. As much as I enjoyed the old cathedrals and narrow streets of the old town, I found it hard to resist the draw of the plentiful restaurants and internet cafes in the tourist area of the new town. The number of internet cafes alone was astonishing - block after block of cafes - pizza.net, where they would serve pizza while you surfed, Internet Coffee, with free coffee, Planet.net, papaya.net; they went on and on. I even found the one food that I had been craving since the day I left - chicken shawerma. It didn't quite measure up to the shawerma from my neighborhood in SF, but it was an adequate substitute.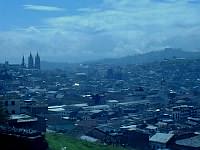 The weather in Ecuador picked up where Southern Colombia left off - rain everyday. Normally in the tropics I expect occasional downpours, but they are always short lived, and moments later with the sun beating down, you forget that there ever was a rain shower. Ecuador was different - cold, overcast, and drizzling, the sun rarely reappeared after being engulfed by clouds, usually around midday. I felt that somehow I had been transported to Seattle Washington, notorious for cold, overcast, and rainy weather. The weather put a damper on my photography as well, as I had no desire to snap photos of dreary, wet, and dark scenery.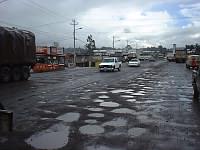 Once on the road, it became clear that I was no longer in Colombia. The smooth, luscious pavement was gone, replaced by chunks of asphalt, mud, and puddles. A day didn't go by without rain, and my clothes never had a chance to dry before being doused again the following day. At least I was well equipped; a gore-tex jacket, waterproof pants, dry bags for all my panniers, and, of course, my wonderful, waterproof US$250 bivy sack. When I finally found myself riding at dusk with no town in sight, I was almost excitied, having finally gotten a chance to really put my gear to the test. Conclusion: my bivy leaked like a sieve. I spent the entire night mopping up the drips of water with my sacrificial t-shirt. But in the end it was futile, and I resigned myself to lying in a puddle of cold water, my head resting on the saturated pile of what were only hours berfore my only dry clothes. It was the coldest night I've spent since the time in Nepal when my Camelbak burst inside my sleeping bag.
I was up as soon as there was light - I wanted to get moving as soon as possible so I could warm up. After an hour or so of riding, I was still cold, so I stopped for a hot breakfast and a hot cup of coffee. As I slowly warmed up, a woman came in and sat down across from me. She started chatting away, wanting to know where I was going and what I was up to. Turns out she was with a group of nature guides, and she started telling me that I should really check out Laguna Quilotua and see the market in the village of Zumbahua since even though it was out of the way it was worth it and that they were on their way to Cotopaxi then to Chimorazo and that they had a large bus and tha I really must join them.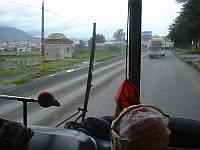 Exactly where she was suggesting I go and where she was inviting me to join them was lost in a blur of unfamiliar names, my poor understanding of Ecuadorian geography, and Spanish words flying by faster than I could decifer them, but I accepted anyway. Moments later my bike was loaded on their private bus, and we were heading down the road towards, well, I had no idea, but at least it was south. Her name was Jhesica, and she and a group of colleagues were on a tour of the national parks of Ecuador as part of their guide training. I declined their offer to take me to Cotopaxi, seeing as I was on a biking tour, not a mountaineering tour, but I accepted the offer for lodging in Riobambas, a town I would reach in a few days. They dropped me off in Pillaro, a town on my route to Ambato, and off they went.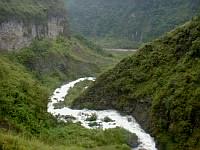 I needed to be in Riobambas in a couple of days, but it was only a day's ride away, so at the last minute, I decided to detour to a town called Los Baños. I didn't know anything about it, but everytime I would ask for directions, people would reply "Are you going to Baños?" so I figured there must be something of interest there. There was - a beautiful, winding, downhill road to get there, bathed in sunshine, far from the cold cloud cover of Ambato. My plan was to ride on to Riobambas from there, but the road was closed by lava flows, so the next day I decided to do a day trip to Puyo, a town downriver from Baños, which was the gateway to the Ecuadorian Amazon Basin. It pissed down rain all morning, but I decided to go anyway, down unpaved, muddy roads. Even though I was slipping and sliding the whole way, the scenery was spectacular, as the river valley weeped with waterfalls. The puddles wire plentiful as well, and by the time I reached Puyo, my bike and myself were soaked. By this time my feet were completely black, stained from the dye leeching out of my shoes. Someday, I hope my toenails will grow out and be a normal color again.
Not wanting to face 110km of climbing back out with no lung capacity, I took a bus back to Ambato, then headed to Riobambas. I had planned to meet Jhesica at 12, so I figured that I would need to get some help from a bus to make it the 60km to Riobambas. The neverending climbing reinforced that belief, but everytime I was about to call it quits, the top would appear to be just over the next crest. I continued this game until, hours later, I actually was at the top, and I was rewarded with a 20km long screaming descent, where I hit my trip record of 75 kph.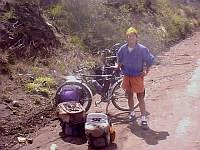 On the ride down, I passed another bike tourist. His name was Toshi, from Japan, and he was on a three year bike tour of the world. His 15,000km from Alaska made my 3,500km look like child's play. His bike was quite a machine - fully custom built in Japan,it was spotless, with carefully crafted panniers. He looked like he was carrying about twice as much as I, but a weight test proved our loads to be equal. My camera gear made up for all the rest of the gear he had. We rode into Riobambas together and both went to meet Jhesica. She immediately took a liking to Toshi, and soon was rushing around town looking for the perfect hostal for him to stay at. We planned to meet later for drinks.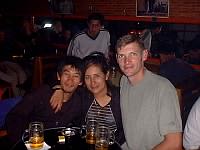 Jhesica and I then headed to her family's house, where she, her two children, her sister, brother-in-law, and her niece lived. It was a cozy house, and my bike and I got to share the kids' room. For a couple of days, I was treated like a king - I was fed wonderful food, got hot showers, and even had my laundry done. My clothes were clean and dry for the first time in weeks.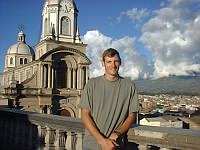 Riobambas was a beautiful town, surrounded by snow capped volcanos on all sides. Unfortunately, it continued to rain everyday, so the trip to the nearby volcano of Chimoborazo that Jhesica and her group were going to take, and that I was going to tag along on, was cancelled. Being stuck indoors gave me time to do some much needed repairs; once again, I had to do major surgery to one of my camera lenses, and I sealed and resealed every seam imaginable on my bivy sack. I had no desire to repeat my cold, wet night of camping.
With rain continuing into the forseeable future, and with my lung infection apparently back in full force, I decided that it would be prudent to get to Cuenca by bus, and continue my biking journey in Southern Peru, where it would be much drier. Cuenca reminded me a lot of Antigua, Guatemala. It was a large, bustling city, but it had a lot of charm. I wasn't really in the mood for a city, however, having already been off the bike for a couple of days, and with a stint in Lima ahead of me. My inability to breath was starting to annoy me, and with long stretches of high altitude climbing to look forward to, I had decided that I would find a doctor in Lima.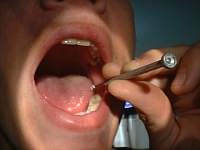 I also had a tooth filling fall out, but not wanting to deal with the additioanl hassle of finding a dentist, I did a temporary repair job myself, using some dental cement I had brought. Jeweler's screwdrivers have many uses, and worked well for the application.
There was a lot of turmoil in Cuenca, as there was a teacher's strike and turbulent elections in progress. The economic situation in Ecuador was poor, and the country had been racked with unrest for many months. The Ecuadorian currency, the Sucre (25,000 = 1USD) was notoriously unstable, so in their infinite wisdom, the government struck a deal with the US to abandon the Sucre and switch entirely to US dollars. This, needless to say, pissed off an awful lot of Ecuadorians. As one man told me, "Who is this Jackson guy on the $20 bill, anyway." The government's "dollarization" program provided much fodder for the alternative political candidates, who would drive around Cuenca with huge bull horns strapped to the top of their cars, spouting out all the ills of the current regime.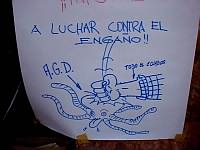 As an American I was careful to never use US dollars, even though at times it was near impossible to acquire Sucres, as the banks were no longer allowed to change dollars to Sucres, as an attempt to force Ecuadorians to abandon their currency. It was an interesting tie to be in Ecuador, but the situation brewing in Peru, my next destination, would prove to be even more dramatic.