I was in no rush to get started. Whereas Trina, Marc, and Robert left before dawn, I watched the sunrise, had a leisurely breakfast, and chatted before beginning my biking journey. My bike was in the best shape it had been in in a while. I even managed to squeeze all of my possesions into my panniers. At around 10, I finally hopped on my bike. But wait. What good would a website be without a ceremonial start-of-journey photo. Traveling alone makes it difficult to get pictures of oneself, so I figured I'd better take advantage of having Guy and Marc around. Unfortunately, my digital camera is rather hard to operate, and it has a long delay between pushing the button and the photo actually being taken. So I rode back and forth on my bike, with Marc and Guy alternately trying to capture more than half a wheel in the frame. Eventually, I gave up, and just stood still while they took the photo.
It felt great to be on the bike. I always forget how much I love biking until I'm actually in the saddle, my legs pumping in rhythm with my breath. I also forgot how myuch I hate headwinds. Riding uip a hill is one thing, because at least you know what you're up against, and you consistently get payback - long screaming downhills. With headwinds, you never know when a gust will almost blow you over, and you can never be sure the winds will be at your backon the trip home. A few days earlier, I was working the wind, using it to zip across the water at breakneck speed. Now, it was working me. I guess that's only fair.
The only thing worse than headwinds is headwinds and hills, and there were plenty of those. Cranking up those grades, with the wind pushing me back, made me wish I had that VW bug handy. To top it all off, it was damn hot, with no shade to be found. Sure, if I had listened to Guy and headed out at dawn, I could have avoided much of the midday sun, but I didn't, so there I was, battling head, headwinds, and hills.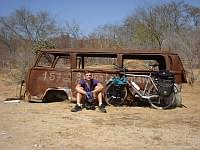 On one hill, I found an old, abandoned, rusted VW bus, one of the ones that didn't make it. This seems to be a common end for Mexican vehicles. In America, when we give up on a car, it somehow finds its way to Mexico for a second life. But in Mexico, when they finally give out, the old, tired carcasses are left to rust at the side of the road.
I was really hoping to not blow out a tire. Never a pleasant experience, this would have been catastrophic, since for the first time in years, I didn't have a spare tube with me. I brought two spares with me, but in all the commotion of backing, I forgot to bring the main tubes for my new tires. Luckily, they were not needed.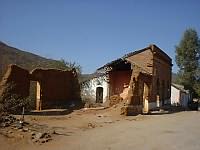 I hadn't the slightest idea how far I had to travel to get to La Paz. By car it took us a couple of hours, but I never could get a straight story on the distance. Everybody I asked gave me a different answer; I got answers ranging from 85km to 180km . At one point about 40k into the ride, one woman assured me I had 100 more to go. I figured that I would just take the average, which was about 100 km. At 50km, I passed through a small town called "El Triumfo," an odl, almost abandoned mining town. Founded in the mid 1800's, it passed its prime when the silver boom ended, and slowly decayed. What was left was a town filled with crumbling old buildings, remnants of a once wealthy boomtown. I obviously had to stop to take photos, and the locals quickly took interest in me and my bike. They were incredibly friendly, and Ifound it hard to leave. Once gentleman, apparently the town drunk, even offered me a swig of his tequila. IT wasn't so bad. The local kids were having a fun time playing with my digital camera, although they having almost as much trouble with the camera as Guy and Marc. I got many good shots of the ground.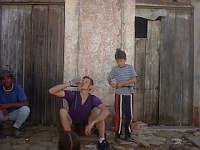 Time was ticking, so I eventually had to leave, seeing as I still had anywhere from 50 to 130k to go. Along the way, I met a man who was walking to Cabo San Lucas. He had started in Mexicali (near the US border) and was walking all the way down baja on the Sea of Cortez side, then back up to Tijuana. Just when you think that you're doing something crazy, someone crazier comes along.
The terrain flatened out considerably for the last 30k, and I rolled into La Paz just as the sun was setting. My first stop? My favorite taco stand for some al pastor tacos, of course. And, of course, no evening would be complete without a visit to my favorite internet cafe. By this point, I had almost learned all the Spanish words in all the Windows dialog boxes. That night I stayed in El Lorimar Hotel, at 185 pesos, considerably cheaper and less luxurious than our previous lodging.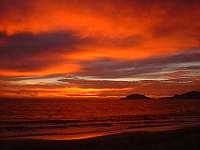 There was a lot of activity going on in town - they were preparing for Carnaval. All along the Malecón (waterfront) food stands, games, and rides were being constructed. MOst of the sidestreets were closed, blocked by bumper cars and ferris wheels. I inquired when the festivities were to begin, and was told, "all day." The next morning, they were still painting the booths, so I figured things were not going to happen for a while .ot of activity going on in town - they were preparing for Carnaval. All along the Malecón (waterfront) food stands, games, and rides were being constructed. MOst of the sidestreets were closed, blocked by bumper cars and ferris wheels. I inquired when the festivities were to begin, and was told, "all day." The next morning, they were still painting the booths, so I figured things were not going to happen for a while . It turns out that things wouldn't get going until after dark, and I had a ticket for the 3:00 ferry to Mazatlán I was assured, however, that the festivities in Mazatlán had started, and that they lasted for five days.
I was told to board the ferry at the car entrance, so I weaved myself between the maneuvering trucks and buses and parked at the side of the ship. I decided to leave my bags there, since the car deck seemed as safe a place as any. About this point I realized that I no longer had my bike helmet. I must have left it on the bus from Mazatlán. Not much I could do about it at that point. I just had to add it to my 'lost' list.
The trip was 18 hours, and I passed much of the time talking with some travelers from Montreal. Inside, they were showing an American movie, subtitiled in Spanish. It was really bad, with Ted Danson as star (need I say more.) Mexico is apparently where all the American B movies end up. At least it gave me a good chance to practice my Spanish.
It started to get cold on deck, so I headed down to my bike to get a jacket. The doors to the car level were locked, however. The next flight of stairs up were labeled "hinged car deck." Curious, I opened the door and was greeted by a sheer 10 foot (getting annoyed by the mixed units in my stories yet?) drop down to the car deck. There's something you won't find in America. The lawyers would be all over that in a second. Never one to let a simple matter of height get in my way, I climbed down a series of pipes to get down. At least my bags were secure.
When I finally headed off to bed (I had a small bunk to sleep on,) the desk clerk wouldn't give me a key. It seemed that I had never checked in, having "stowed away" by entering through the car deck. After showing here my ticket and doing a little persuading, I managed to convince her to give me a key.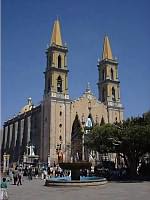 I had fears that Mazatlán would be a horrible tourist resort, but the town center was anything but. Like San Francisco's Fisherman's Wharf, all the tourists are contained in an area called "Zona Dorada" - the golden zone. As with all Mexican cities, the town was centered around a grand cathedral. From there, narrow streets lined with shops spread outwards. After a few aimless trips around town on my bike, I eventually became oriented. My first task was to purchase a new "casco" or bike helmet. Not having actually ever seen anyone in Mexico wearing a helmet, I was leary taht I would ever find one, but after my fifth bike shop, I found an American made Bell helmet for 250 ps.
Outside my hostel, I met a man named Arturo. It turns out that he has traveled all over Mexico by bike, and he had all sorts of advice for meñ get a letter of recommendation from the Secretary of Tourism to facilitate any problems, send unneeded things on ahead by bus, don't ride during midday, and take potassium, soya powder, and seaweed powder each morning for endurance. I find fresh seaweed rather disgusting, and I wasn't too excited by the thought of drinking reconstituted seaweed, but hey, it couldn't be any worse than powerbars. So off I went to the health food store to pick up my soya and seaweed powder. Upon my asking where they kept their soya powder, the gentle, middle aged woman behind the counter said, "Come here baby" as she led me tothe soy section. I guess that's what happens when you learn English from American television.
During lunch, I ran into a couple of women from New York, who had somehow gone astray from their protected enclave in Zona Dorada and ended up the town center. Turns out that they run a business in New York selling (from their business card) "Exotic chain mail garments, accessories, and furniture." What exactly would a chain mail accessory be? Ah, memories. It reminded me of my neighborhood back home in San Francisco.
I was excited to finally see carnival in progress, but it seemed that once again, the main festivities were happening "mañana." I was beginning to belive that carnaval never actually happened. Like my trip, it was something that you just continued preparing for without it ever happening. After being guaranteed by a hot dog street vendor (and if you can't trust them, who can you trust?) that the following night would involve full-on carnaval festivities, I decided to stay another day. I was going to see carnaval if it meant staying in Mazatlán all year.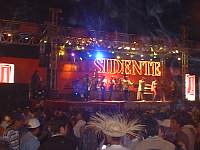 Carnaval did indeed happen. The entire waterfront was closed to traffic, and thousands of people swarmed around the countless food booths, band stages, and Tecate stands. Every band there (there must have been ten) was alternating between covers of Ricky Martin's "La Vida Loca" and Lou Bega's "A Little Bit of Mambo." Unfortunately for me, the latter is still stuck in my head.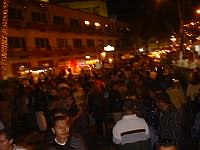 I gravitated towards the area where people were dancing to techno music - I figured I could fake dancing to techno with the best of them, but my lack of coordination would be glaringly obvious trying to dance to "La Vida Loca." It was rather funny, because there was a group of young Mexican women, awkwardly trying to flirt with me. It reminded me of high school, except for the fact that no one actually tried to flirt with me when I was in high school. If only I had been as freakishly tall and strange looking back then, I would have gotten all the attention.